This Marvelous The Little Match Girl Cake was made by Catalina Anghel from Catalina Anghel Azucar arte.
These Christmas Cakes were made for Home For The Holidays which is a cake collaboration where bakers shared edible creations based on Christmas time stories.
Here is Catalina's description of this Fabulous cake:
The rose on top of my cake represents the little girl ́s dreams. Inside the house everyone ́s celebrating Christmas while outside our little match girl is freezing and trying to warm her hands at a match light…I choose this tale because it impressed me since I was a little girl. I still remember the old book that I read and re-read over and over again…Merry Christmas to all!!!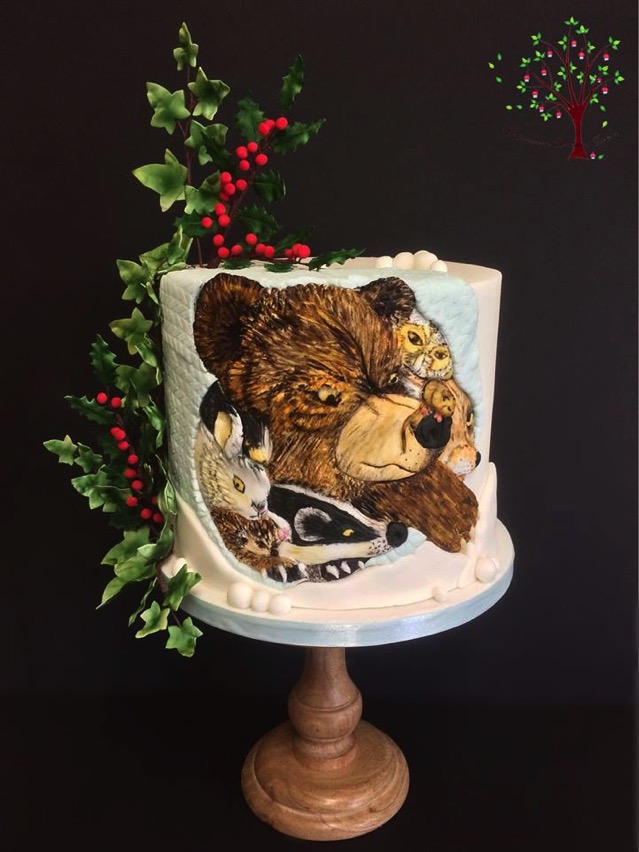 This Superb Mitten Christmas Cake was made by Angela Morris from Blossom Dream Cakes.
Here is Angela's description of this Fabulous cake:
My piece is based on a Ukrainian children's Christmas story, The Mitten by Jan Brett. A young boy wears the new mittens he got for Christmas out into the snow and promptly loses one. A mole finds it and is first to move into its snug interior, followed by a rabbit, a hedgehog, an owl, a badger, a fox, a bear, and lastly a mouse. The mouse's whiskers tickle the bears nose and he sneezes. All the animals are flung out from their woolly cave and as the mitten sails through the air, it is spotted by the young boy who takes it home again, wondering how it became so enormously stretched out.
This Superb Christmas Present Cake was made by Pamela Heun from Cakes by Pamela Jane.
Here is Pamela's description of this Fabulous cake:
This Christmas story is very near and dear to my heart. Most people only talk about Jesus' birth around the holidays, but there is more to the story. This is the story of Jesus' birth, death, and resurrection. I used the star of Bethlehem flower to represent his birth, the dogwood to represent His crucifixion, and the Easter lily to represent his resurrection. The gift box and evergreen branches represent the free gift of eternal life that God offers to all who will believe in His Son.
This Marvelous Christmas Tree Elf Cake was made by Lori Ann Mahoney from Lori Custom Cakes.
Here is Lori's description of this Fabulous cake:
One evening, Santa and Mrs. Claus walk through the Christmas Tree Forest together and decide that they'd like to have a tree inside their home. They decorate the first indoor Christmas tree, but because they don't know proper tree care, it catches fire and endangers Santa's Christmas preparations. The tragedy would have set Santa's overloaded schedule back further if not for the appearance of a magical Christmas tree elf, nicknamed Blink, who teaches the Clauses how to safely take care of their tree. He and other elves want to be useful, so Santa enlists them to help build toys in his workshop, but they also have another mission—to take care of all the trees that come from the Christmas Tree Forest. The story's lesson may also help get children involved in taking care of indoor Christmas trees—rather than forgetting about them after they're decorated.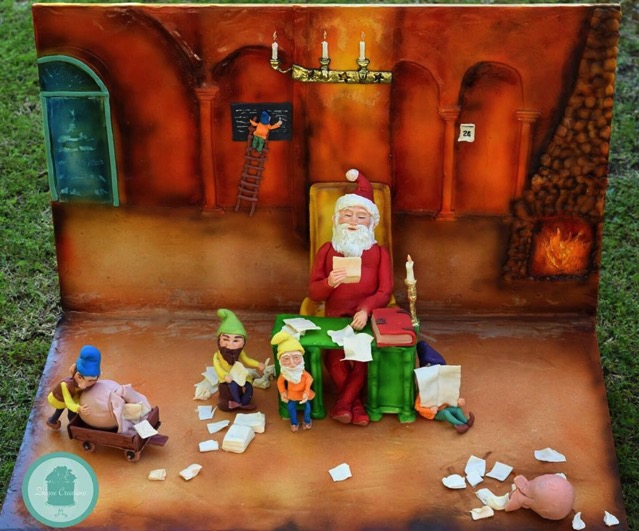 This Superb Jolly Old Santa Claus Cake was made by Zelda Scafidas from Znique Creations.
Here is Zelda's description of this Fabulous cake:
This is a story of how Santa Claus and the elves prepare the toys, check the list of boys and girls, load the sleigh, and set out to deliver their gifts. I loved the illustrations and vintage feel of this book and took this as my inspiration.