This wonderful Plants vs. Zombies Cake was made by M5Cake. The plants and zombies are terrific and look just like they do in the game. For more Plants vs. Zombies cakes, check out these
This is a Conehead Zombie; His traffic cone headpiece makes him twice as tough as normal zombies.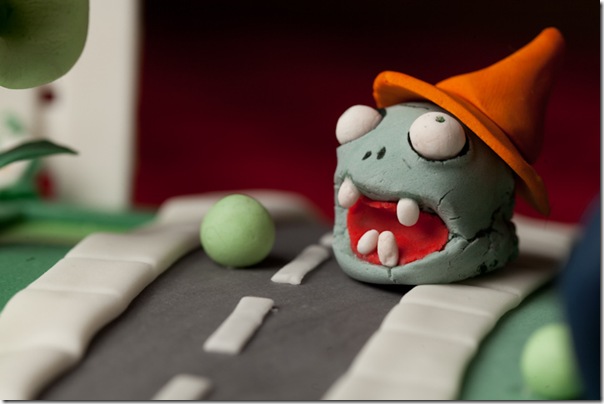 These are a Wall-Nut and a Tall-Nut. Both have hard shells which you can use to protect your other plants. While Tall-Nuts cost more, they can't be jumped over by zombies.
My favorite trick in Plants vs. Zombies involves Tall-Nuts. I like to plants Spikeweed directly in front of Tall-Nuts. This way, zombies are damaged by the Spikeweed the whole time they are trying to eat through the Tall-Nuts.
This is a Potato Mine. It packs a power-ful punch, but needs a while to arm themselves. You should plant them ahead of zombies. They will explode on contact.
After you kill a group of zombies, coins will appear on the screen. Once you have enough of them, you can use them to purchase things like additional slots for your plants.