These adorable Hello Kitty St. Patrick's Day Cookies were made by Sweets by Suz.  The different St. Patrick's Day outfits that Suz created for Hello Kitty are terrific.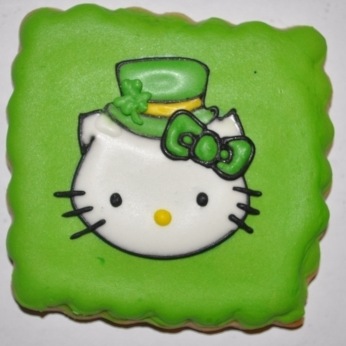 As cool as these cookies are; what is even cooler is how Suz made them.  Suz iced the cookies and then she outlined Hello Kitty with black icing.  Here's the cool part: Suz used a KopyKake Project to project the image of Hello Kitty on each green iced cookie and then traced the projection with black icing.  This way each and every Hello Kitty looked perfect.  Here's Suz's excellent post on the whole process.

Happy St. Patrick's Day!