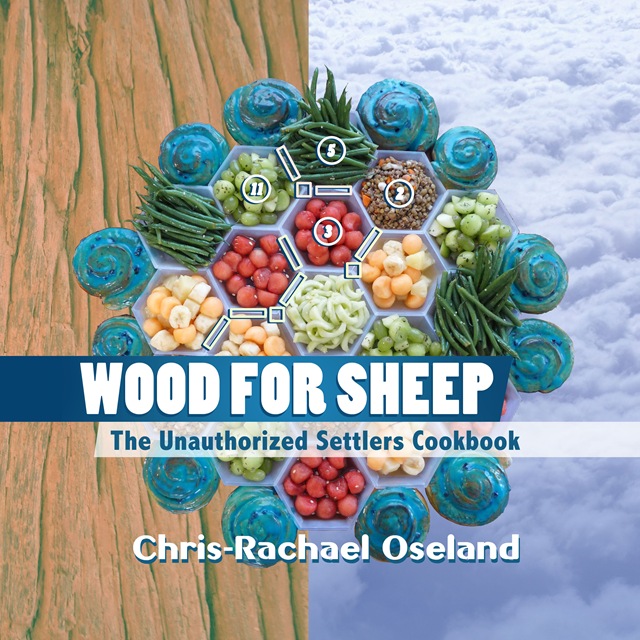 There is an old adage that you can't judge a book by its cover. But the first time I saw the cover to Chris-Rachael Oseland's Wood for Sheep: The Unauthorized Settlers Cookbook
, I knew I was in for a treat.
I was absolutely thrilled when Chris-Rachael contacted me and asked me to write a review of this awesome cookbook. Most people look at The Settlers of Catan
and see game pieces or settlements and sheep. Chris-Rachael, a genius at pop culture food, sees a hexagon shaped feast. The cover is a wonderful example of this, it features "the Settlers of the Cold Salad" which includes everything from Raspberry Balsamic Watermelon Hills to a Blueberry Stuffed Sweet Roll Desert.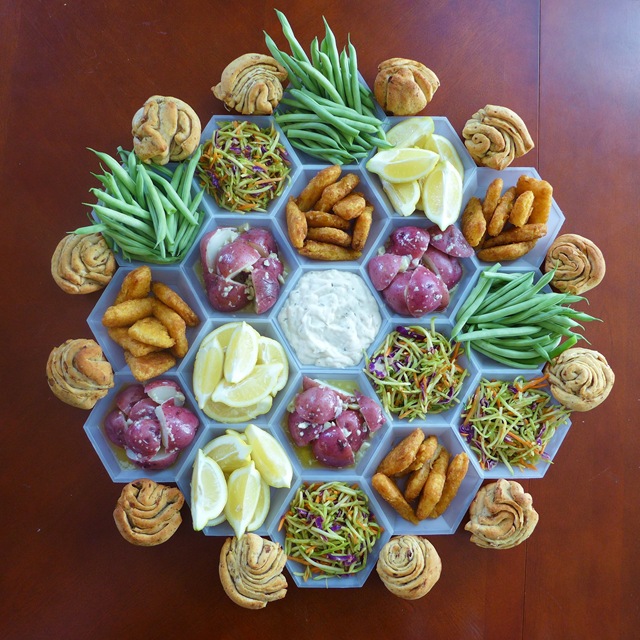 Fish Fry Board
The hex shaped servings are adorable. But, the thing which is amazing about this cookbook is the variety of foods contained within. To begin with, there are 18 different maps and boards. They include everything from a Waffle Bar Map which is perfect for breakfast after a sleepover to a Thanksgiving Dinner Board which would be perfect for my family because we end up playing Settler of Catan almost every Thanksgiving. On top of that there are five recipes for roads, 7 for settlements, 6 for cities, and 4 for development cards.
There are also suggested modifications for ports, the year of plenty, road building, and victory points. There's even cute ways to add the robber. Plus, there are recipes for roads (made from wood and brick), settlements (sheep, bricks, wood, and grain), cities (two grains and three ores), and development cards (grain, sheep, and ore).
Because of the variety, you should be able to find tasty recipes for even the most finicky eaters. These recipes are terrific alternatives to the old party standbys of fast food and pizza. Best of all, even though they're served in hexagon containers, people who do not play Catan can appreciate and enjoy the foods in this cookbook.
Meatloaf Map
One of the things which amazed me about this cookbook is that each resource has the appropriate food associated with it. Chris-Rachael explains this on page 9:
"For the themed maps, I tried to stick with the color scheme of red hills, green forests, yellow fields, dark mountains, a white desert, and yellow/green pasture.

For the building cost inspired recipes, I had to decide how I wanted to define bricks, wood, sheep, ore, and grain.

Two of those are obvious. Sheep give you either lamb meat or sheep's milk. Grain can mean pretty much any edible grass (wheat, oats, barley, rice, etc.)

Wood was a little trickier, and bricks just turned into any edible building block the right shade of red. You'll see plenty of tomatoes and red bell peppers.

But what can you do with ore? Humans will eat darn near anything that isn't a rock, and if the rock is salt, we'll make an exception. I freely admit I took some liberties. Hopefully, you'll find them worth the flavor."
One of the neat things about the hexes of foods is that they're not just stylish. They're also practical. As I'll discuss more later, Chris-Rachael is very aware that different people have different dietary needs. These cute little hexes allow you to serve each food without any cross contamination.
Most ingredients can be made the day before, put in their hexagon container, and then put out for the party.
Settlers Southern Board
I have a nice stacks of cookbooks and baking books. Most contain wonderful recipes and great tips and tricks. But with few exceptions, most aren't interesting reads. How often have you sat down and read a cookbook? Before writing this review, that's what I did. I read Wood for Sheep and it was delightful. See for yourself. Here is an excerpt from Moroccan Inspired City Lamb on page 86:
"There they go again. My poor Settlers pretty much confuse any hard thing that will break their teeth with ore.
This time, in homage to your fine mountainous mines, the chef decided hard, dried fruit was close enough to ore. I need your help. I can't even threaten to throw rocks at their heads because they'd just confuse them with more ore and try to melt them down into metal. At least, that's what they tell me every time they set a rock on fire and toss it through my window.
To make this mountainous homage of food, start by boiling half a cup of water and adding all your ores. The raisins, golden raisins, and finely diced apricots need to rehydrate or else they really will feel like rocks in your mouth."
Chris-Rachael also includes wonderful little tips in her recipes. Here is an example from the City Cookies recipe on page 89 – "Start by mixing your all-purpose flour, almond flour, salt, and baking soda in a bowl. This may seem pointless, but if you don't, you might end up with one cookie that's all almond or another that doesn't rise at all due to a lack of baking soda. It's worth the extra 30 seconds of effort to homogenize everything."
Waffle Map
Chris-Rachael saved the best for last. One of my children has food allergies, so I've had the experience of going to restaurant and having to talk to the chef to find out exactly what is in different dishes. Chris-Rachael understands perfectly that different people have different dietary needs and she mentions this multiple times in the cookbook. At the back of the cookbook is an appendix that lists recipes by dietary needs. Are you Lactose Intolerant? There are 50 recipes for you. Allergic to gluten? Chris-Rachael has 63 recipes for you to try. Chris-Rachael even differentiates between vegetarian and vegan.
Wood for Sheep: The Unauthorized Settlers Cookbook is ingenious, witty, and filled with yummy recipes. If you're a fan of The Settler of Catan, you'll love this cookbook! If you've never played Catan, reading this delightful cookbook will probably change that. Chris-Rachael passion for food and Catan is contagious. I give this cookbook two thumbs way up!
The only compensation that Between the Pages received for writing this review was an electronic review copy of Wood for Sheep: The Unauthorized Settlers Cookbook from the author, Chris-Rachael Oseland.