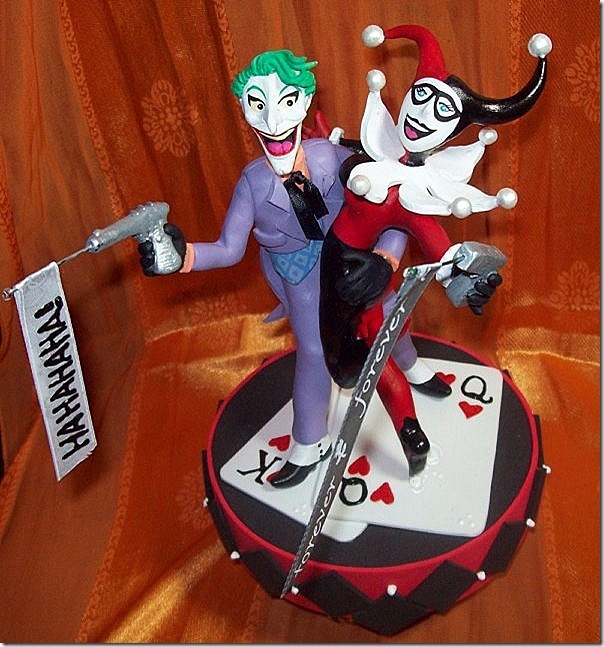 This Wednesday is Super-Blog Team-Up. Twelve amazing blogs will be teaming up to tackle villains. To celebrate, this is villains week on Between the Pages. All week, I'll be featuring classic villains like the Joker, Harley Quinn, Daleks, Weeping Angels, Darth Vader, Boba Fett, the Borg, Captain Hook, Ursula, Mad Madam Mim, Magica De Spell, Poison Ivy, Catwoman, Venom, Aliens, Predator, Two-Face and many more.
If you love bad guys, please check back each day. I'll be featuring some amazing cakes and cookies this week. I want to keep the details a surprise, but I'm doing one really unusual post featuring villains. I'll give one hint, this special post doesn't feature cakes.
To kick off Super-Blog Team-Up and Villains Week, I'll be on the radio program Compton After Dark at 11:30 tonight! Hope you can listen in.
I've started off villains week, with my favorite villain cake topper! The amazing Joker & Harley Quinn Cake Topper shown above was made by Kharygoarts.
Dream Day Cakes made this stunning Harley Quinn Cake for a birthday at Gainesville's Hoggetowne Medieval Faire.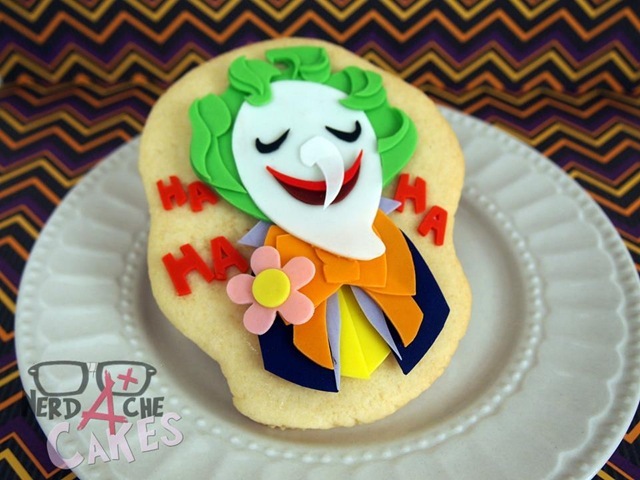 This awesome Joker Cookie was made by the amazing Ant from Nerdache Cakes.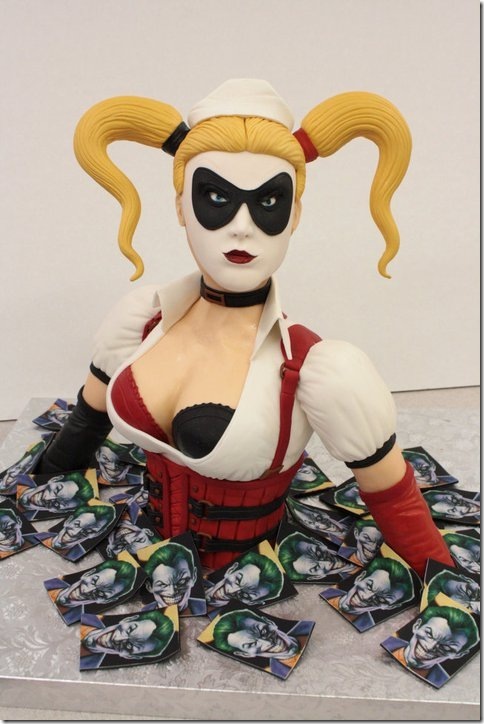 This stunning Arkham Asylum Harley Quinn Cake was created by Mike's Amazing Cakes.
This Joker Cake made by Torte in Pasta di Zucchero Sugar Factory is out of this world.
These terrific Harley Quinn Cookie Pops were made by Maria Baeza. You can order these from her Etsy shop.
This amazing Heath Ledger Joker Cake was made by the extremely talented KupKake Tree.
This cool Harley Quinn Cookie was made by Nerdache Cakes.
Clairellyn from The Simple, Sweet Life made this wonderful Black and White Joker Cookie.