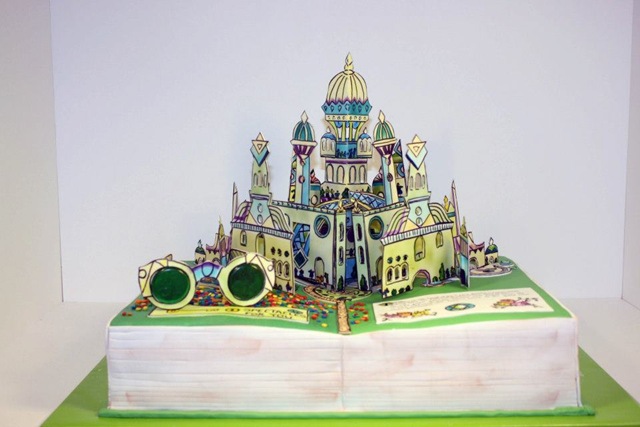 Wow!!! Talk about a magical cake!
Prima Cakes Plus made this magical Wizard of Oz Pop-up Book Cake. It won 1st place at the Garden State Cake Show.
Jennifer hand cut each panel from fondant mixed with tylose powder. Then she airbrushed a base color layer on both sides of each panel. Details of the figures, trees and windows were then added to both sides with food color gel. After everything was dry, she went back and added in the black outlines that are common in storybooks.
This is the back of the Emerald City.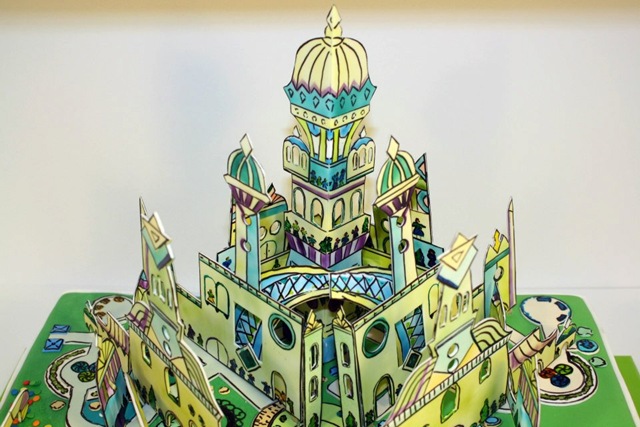 Have you noticed something important? The Emerald City isn't emerald. Why?
These days most pop-up books have so many extra features in addition to just the pop-ups. Jennifer decided to add one of these cool bonus features to her cake. Beside the Emerald City are a pair of green spectacles which when worn turn the Emerald City green. THAT IS SO COOL!!!
Jennifer says that if you look real close you can get a glimpse of the Cowardly lion through one of the doors. Dorothy, The Tin Man and The Scarecrow are there with him. Unless my eyes are playing tricks on me, it is the door where the Yellow Brick Road ends, which makes perfect sense.