This Fabulous Muppets Theatre Cake was made by Machus Sweetmeats.   This cake features 18 Muppets in a turn of the century theatre box. This Muppets Show theatre box is red at the top with a large sign saying 'The Muppets Show'. It has burgundy and gold ornate wooden trim and burgundy and gold trimmed curtains on the front. At the top of this theatre box are Kermit the Frog and Rizzo the Rat. Rizzo the Rat is popping out of a hole and Kermit the Frog is sitting in front of The Muppets Show sign.  There are three rows of five Muppets in the theatre. Each muppet character has their own seat with a white background and white dots in a black background on top of that. Greek Doric white columns are between each Muppet. 
The top row has Camilla the Chicken, Gonzo the Great, Waldorf, Statler, and Scooter.
The middle row has Rowlf the Dog, Beaker, Miss Piggy, Walter, and Fozzie Bear.
The bottom row has The Electric Mayhem band members: Sgt. Floyd Pepper, Dr. Teeth, Animal, Janice, and Zoot.  Dr. Teeth is playing a keyboard. Animal has drum sticks in his hand.
The bottom of the cake has the birthday name and age in gold letters written on the burgundy background of the bottom of the theatre box. 
Each Muppet was expertly crafted using fondant. This cake was made from four layers of vanilla cake and two layers of chocolate cake.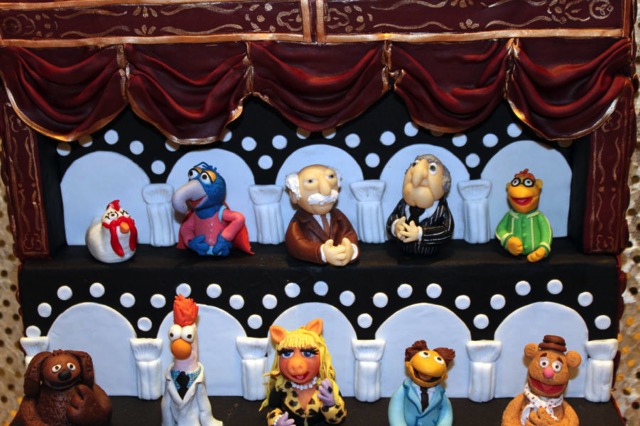 Kermit the Frog and Rizzo the Rat at the top of the box
side view 
view from other side