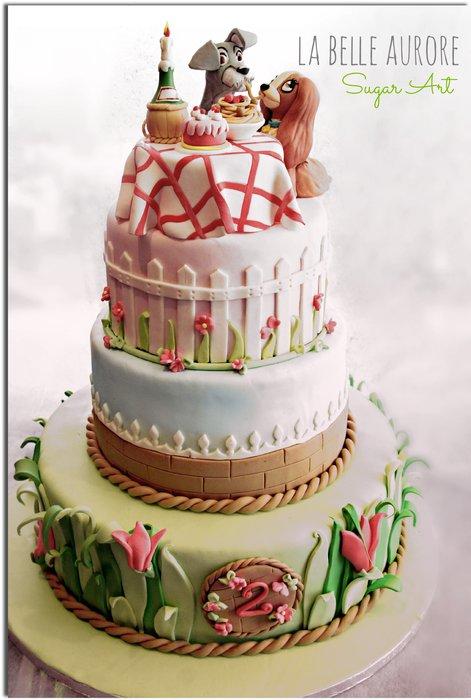 This Lady and the Tramp Cake was made by La Belle Aurore. This Marvelous Lady and the Tramp Cake has Lady and the Tramp sitting at a table outside Tony's restaurant. A plate of spagetti with meatballs is between them. Each has a piece of spaghetti in their mouth. There is a pink cake with white icing and red cherries on top. An empty green wine bottle holds a lit candle. The tablecloth is white with red criss-crossing stripes.
The second layer has a white picket fence. Pink flowers with yellow centers and green stems are sticking out of some of the fence slats.
The next layer of the cake is blue to represent the sky and has a brown brick wall with a white wrought iron top. There is a brown rope around the bottom of the layer.
The bottom layer of the cake is green with green plants and pink flower blossoms. There is a wooden sign in the middle of the cake with a number '2' to represent the birthday age. Small white and pink flowers are around the two. There is a brown braided rope at the bottom of the cake layer.
The cake board is covered in green.