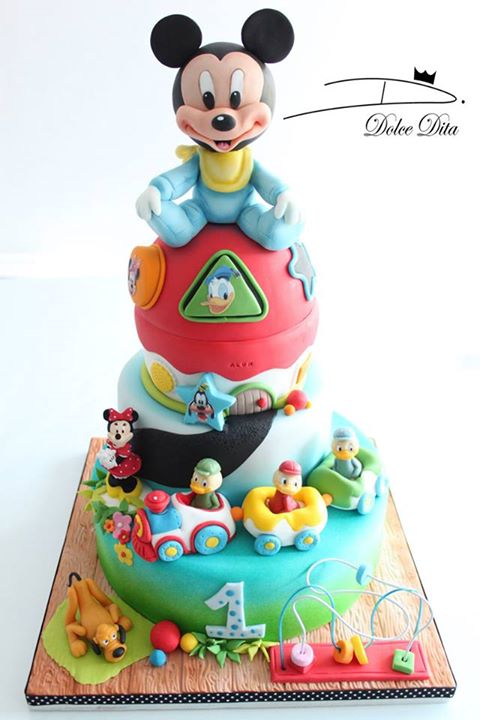 This Awesome Baby Mickey Mouse cake was made by Dolce Dita. A three dimensional Baby Mickey is sitting on top of a red toy shape sorter at the top of this Disney Babies cake. Baby Mickey is wearing a light blue one piece with a yellow bib.
The red shape sorter has a green triangle with Donald Duck's picture and an orange circle with Minnie Mouse's picture. On the other side of the green triangle is a hole in the shape of a star. A blue star is at the bottom of the toy with Goofy's picture on it. There is a small brown wooden door with a red handle at the bottom of the toy beside the blue star. This toy sorter looks like it may have been loosely based on Disney Clementoni Disney Baby Mickey and Friends Cookie Box Shape Sorter.
A black walkway leads from the wooden door along the side of the middle layer of the cake. Minnie Mouse is at the end of the walkway standing on the bottom layer which is just below it. She is wearing her red polka-dot dress and bow. There are flowers in front of Minnie Mouse.
The bottom layer of the cake is light blue on the top and green on the bottom. Huey, Dewey, and Louie are riding a toy train on the top of the layer. There is a white with blue polka-dot number '1' to represent the birthday age. Below the number are green leaves.
The cake board is covered in a brown woodgrain board pattern. Pluto is on a patch of green grass on one side of the cake board. There is a large red ball, a small blue ball, and a small yellow ball beside Pluto. On the other side of the cake board is another toy with objects that can be moved along curved wires from one end of each wire and back to the other end.
This Disney cake was made using a chocolate raspberry cake.