This Splendid Hand-painted Snoopy Cake was made by Sweet Kokeko. This Charlie Brown cake is a tall single layer cake. Snoopy's doghouse is painted onto the cake. Green grass is painted beneath the doghouse. Woodstock is beside Snoopy's doghouse. The birthday name is written on Snoopy's doghouse. It looks like Snoopy is painted onto a piece of gum paste on top of the cake. Behind Snoopy is a shite cloud with a tiny bit of blue sky peeking through.
Black lines outline everything in comic strip fashion.
There is a red ribbon at the base of the cake.
Snoopy is a great canine friend to Charlie Brown. His shape was modeled after one of Charles Schulz's childhood dogs named Spike.
As Snoopy rests on his doghouse, what great adventure will he imagine today.
Snoopy has a great imagination. He pretends to be a college student as Joe Cool. He imagines himself as a World I Flying Ace fighting the Red Baron.
Snoopy reads one word a day from "War and Peace."
Snoopy writes the great American novel.
Red hearts are in front of Woodstock and pink flowers are behind Woodstock.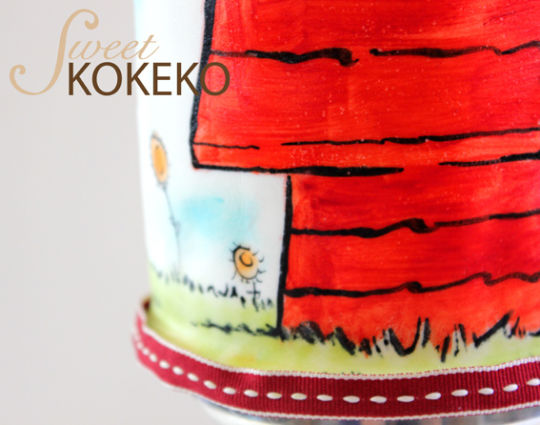 Green grass is on the side of the doghouse.
To see Charlie Brown treats for every season, check out Snoopy and Charlie Brown.