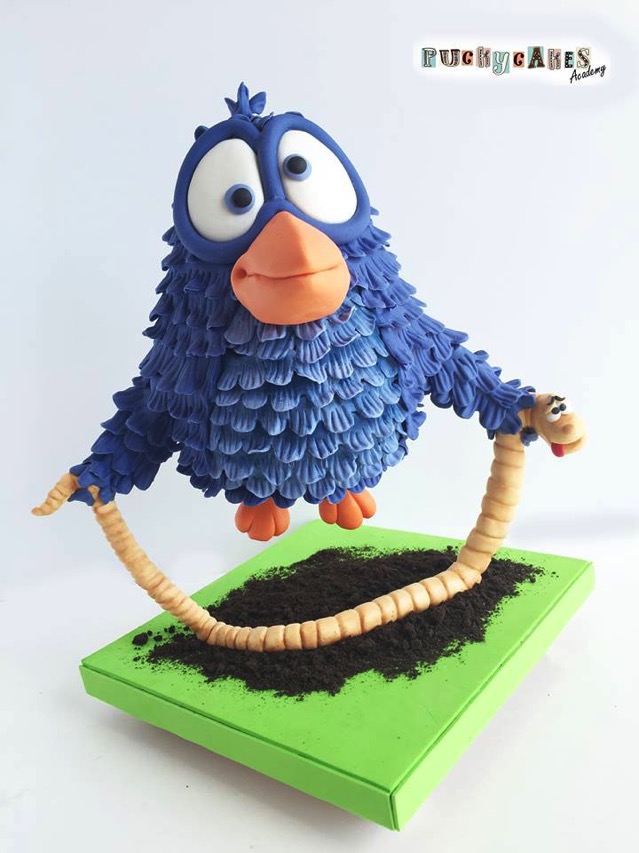 This Magnificent Pixar Blue Bird Cake was made by Georgia Suter of Pucky Cakes. Check out the Georgia Suter Facebook Page for information about a class that the baker offers on how to make this amazing cake.
This is one of the Blue Birds from Pixar short called For the Birds that appeared with the Disney / Pixar animated movie Monsters, Inc. The animated short,For The Birds, won Best Animated Short Film in 2001.
This cake looks like one of the small birds that lands on the telephone wire. In the short film, the small birds start mocking a large bird sitting on a pole. I like the way the large bird gets the last laugh in the end.
The blue bird on this cake is holding the head of a long worm in one of its hands and the tail of the worm in the other hand. It looks like the bird is using the worm as a jump rope. There is crushed cookie crumb dirt on the green cake board underneath the worm.
The bird has a silly look on its face.