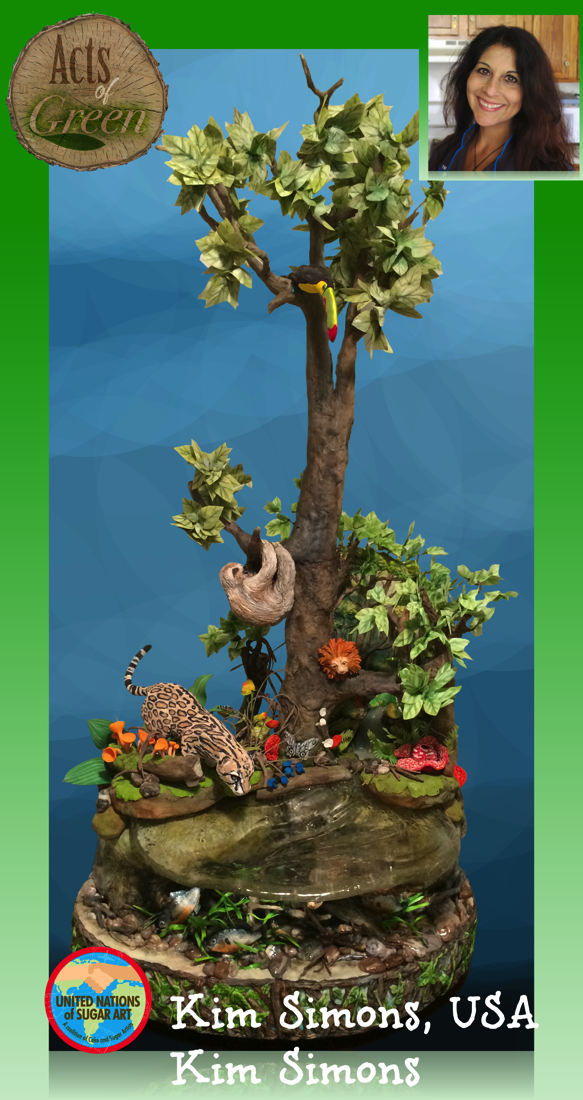 This Terrific Earth Day Cake was made by Kim Simons from Cakes By Kim Simons located in the United States.
This Cake is part of the United Nations of Sugar Art (UNSA) Earth Day Collaboration: Acts of Green-UNSA 2016. This event focuses on the beauty of our planet, its animals, and its people. It will touch on the damage that is being done to our environment and how that damage is affecting humans and animals alike.
Take a look at Acts of Green-UNSA 2016 to view more cakes and look at raffle tickets and prizes to raise money for National Geographic which is a non profit committed to conservation and education of our emerging leaders.
Here's Kim's bio:
Kim Simons is a multi-award winning, master level, cake artist and food artist. She wins just about every cake competition she enters and in many cases also takes "the best of show" title as well. Kim has recently been featured on the Food Network's, "Cake Wars", "Duff Till Dawn", "Outrageous Wedding Cakes" and "Sugar Dome", Kim also has appeared on Telemundo's, "Buenos Dias Nueva York", where she presented one of her fabulous cakes to a live television audience to celebrate their first show. 


Kim, has been recognized in "Dessert Professional" magazine as one of the Top Ten Cake Artists in North America for 2013. Her cakes have also been featured in the "Cake Masters" magazine, the "American Cake Decorating" magazine, "Today's Woman" magazine, and "Cake Design France" magazine. 


Kim is not a traditional cake artist. She enjoys creating sculpturally unique and beautiful cakes and food art while pushing the limits of construction and design. Her strength is in her designs, mastery of painting with edible colors, and the ability to sculpt incredibly realistic nature scenes. Kim has a reputation for creating amazingly realistic looking animals out of sugar and has earned the respect of her peers. Kim teaches classes and performs demonstrations all over the country.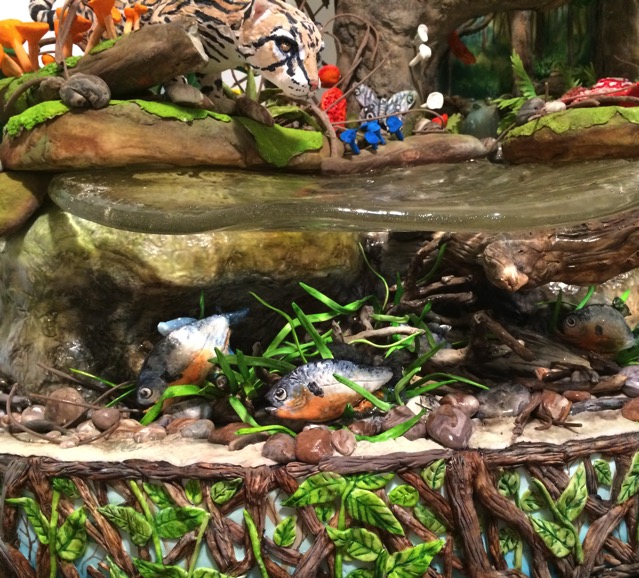 This Earth Day cake does a great job representing the different layers of life in the Amazon Rainforest. This picture shows fish in the water. There are lush vines with green leaves around the water. A leopard is drinking out of the water. Butterflies are flying in the air near the leopard.
Trunks of forest trees that surround a small stream with a waterfall.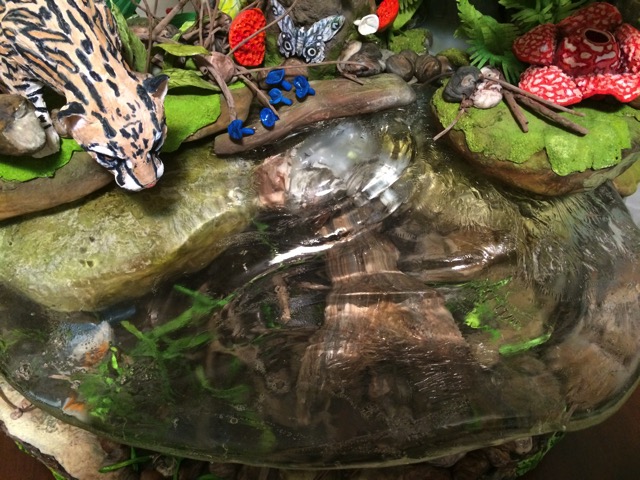 Please check out the other great Earth Day Cakes and Cookies at Acts of Green.