This Fabulous Romanian Longhorn Dragon Cake was made by Shanty Bee – Shantal Der Boghosian from Shakar Bakery.
This Fabulous Romanina Longhorn Dragon cake was made for the Fantastic Beasts of Birthday Mischief Collaboration.
The collaboration of food artists from around the world, known as Birthday Mischief Managed have assembled to debut their second installment of edible art in celebration of world-renowned author, J.K. Rowling's screenwriting debut and newest movie trilogy – "Fantastic Beasts and Where to Find Them".
"Fantastic Beasts and Where to Find Them", is an A to Z "textbook" of magical creatures that have been featured in the Potter film series and publishing's of J.K. Rowling. For this collaborative effort some of the beasts were removed from the list inside the textbook and each artist was asked to create the remaining using only their imaginations and the book's descriptions with sweet edible mediums. Each artist has dressed for the occasion and transformed themselves into "Magizoologist". Be sure to visit their pages and read the documents kept about their beast.
Our biggest challenge was resisting the urge to research, (cheat) pictures of our assigned beasts. The group has made sweet magic. My only regret is not having a pet Kneazle." – Michelle "ChefMitchie" Curran aka Michaeleas Cuuragusta, Headmistress
Here is Shantal's description of this Fabulous Edible Beast:
Study/Beast: Romanian Longhorn Name: (did it tell you it's name or did you name it for command reasons): Cue T. Pahtooty
Notable Behaviors: Enjoys blowing small puffs of fire to roast baby rabbit legs before eating. He captures his prey by staring them straight in the face with his adorable eyes, mesmerizing them right before burning them into oblivion. The deadliest dragon, he uses his gold horns to play with his food before consuming it. Also enjoys belly rubs as long as he isn't hungry.
Feeding notes: Constantly hungry. Enjoys playing with his food
Injuries sustained by Caretaker and aide taken: Stab wounds and first degree burns. Use dittany to heal wounds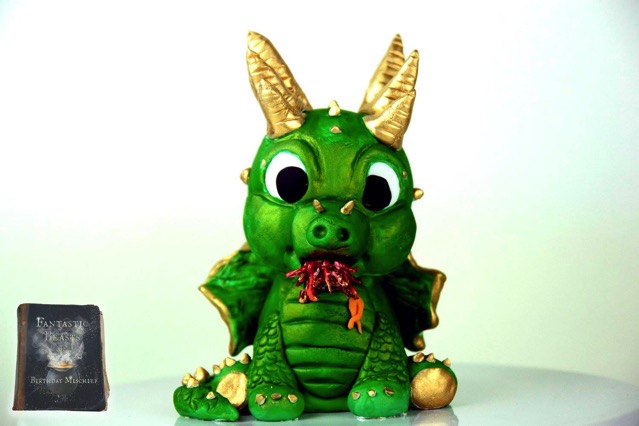 Injuries sustained by Study/Beast and aide taken: None. He is incredibly agile and apparently self heals any wounds he may have inflicted. Though no wounds have ever been observed.
Has study been released if you took it captive? If yes, where? No