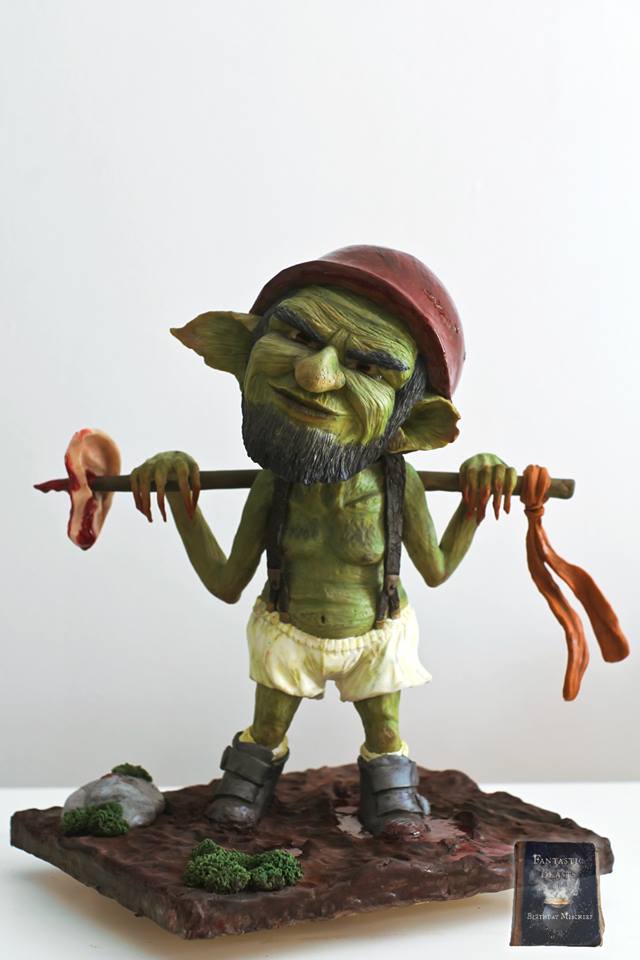 This Splendid Red Cap Cake was made by Tamarwyn Zegwater, Master of the Dark Arts – Isabel Tamargo Martin from Tartas Impossibles by Isabel Tamargo.
This Splendid Red Cap Cake was made for the Fantastic Beasts and Where to Find Them Collaboration.
The collaboration of food artists from around the world, known as Birthday Mischief Managed have assembled to debut their second installment of edible art in celebration of world-renowned author, J.K. Rowling's screenwriting debut and newest movie trilogy – "Fantastic Beasts and Where to Find Them".
"Fantastic Beasts and Where to Find Them", is an A to Z "textbook" of magical creatures that have been featured in the Potter film series and publishing's of J.K. Rowling. For this collaborative effort some of the beasts were removed from the list inside the textbook and each artist was asked to create the remaining using only their imaginations and the book's descriptions with sweet edible mediums. Each artist has dressed for the occasion and transformed themselves into "Magizoologist". Be sure to visit their pages and read the documents kept about their beast.
Our biggest challenge was resisting the urge to research, (cheat) pictures of our assigned beasts. The group has made sweet magic. My only regret is not having a pet Kneazle." – Michelle "ChefMitchie" Curran aka Michaeleas Cuuragusta, Headmistress
Here is Isabel's description of this Fabulous Edible Beast:
Study/Beast: RED CAP Name: (did it tell you it's name or did you name it for command reasons): I kindly tried to ask them their names before their despicable attack against me. After that I refer to them just as "ghoul misbirths".
Notable Behaviors: Red Caps live in reduced groups and go hunting together. My captured specimen weared dirty white briefs, iron boots, leather suspenders and an stranger helmet all covered with blood. In fact he reacts with bloodlust when I show him something red. I suppose is a male redcap because of his bushy grey beard. He doesn't seem to be very chatty, they have their own language but he understood everything I told him. When he thought he was alone he used to whisper single words like "muggle", "blood", "brain", "hit it", "warm", "now"….
Feeding notes: After 36 hours I proceed to feed the creature but he didn't eat anything, not vegetables nor meat, fish or water…anything. So I figured what kind of fod he could eat and prepared an experiment: I freed one of my captured muggles in the wood and my redcap half and an hour later. As I thought, muggles are main food for redcaps and blood their staple drink.
Injuries sustained by Caretaker and aide taken: I had to launch a "Glacius" spell to capture him. No too serious, just two gangrenous feet fingers.
Injuries sustained by Study/Beast and aide taken: Of course not, If he had damaged me minimally I wouldn't be able to complete this study…without a subject.
Has study been released if you took it captive? If yes, where? Well, in a certain way I think I freed him. I freed his head from his body and now my first "ghoul misbirth" rests in my trophy showcase.
Any other notes you took during your study: I've tried to study more about Red Caps but they have no much to learn, except that they dig holes to ambush dimwitted muggles, love to hit brains with many stuff, they are very aggressive and not too smart in their tactics…and ugly and stinking. But I must confess that I really have fun capturing lately and I've never seen my house so beautiful with my bloody helmet collection.