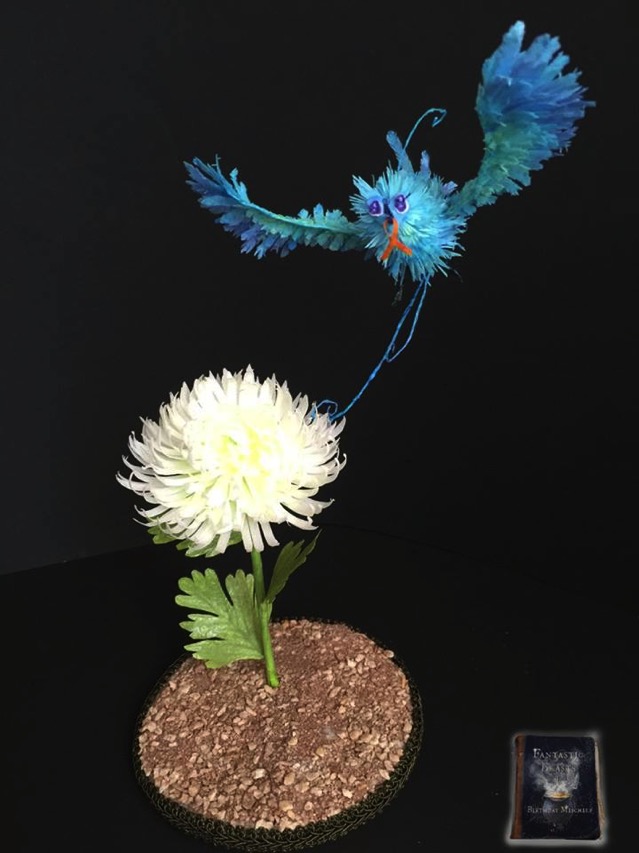 This Marvelous Jobberknoll Cake was made by Sugavobby Quimbley, Flying Instructor – Kyoko Ueda from Sugar Voyager.
This Marvelous Jobberknoll Cake was made for the Fantastic Beasts and Where to Find Them Collaboration.
The collaboration of food artists from around the world, known as Birthday Mischief Managed have assembled to debut their second installment of edible art in celebration of world-renowned author, J.K. Rowling's screenwriting debut and newest movie trilogy – "Fantastic Beasts and Where to Find Them".
"Fantastic Beasts and Where to Find Them", is an A to Z "textbook" of magical creatures that have been featured in the Potter film series and publishing's of J.K. Rowling. For this collaborative effort some of the beasts were removed from the list inside the textbook and each artist was asked to create the remaining using only their imaginations and the book's descriptions with sweet edible mediums. Each artist has dressed for the occasion and transformed themselves into "Magizoologist". Be sure to visit their pages and read the documents kept about their beast.
Our biggest challenge was resisting the urge to research, (cheat) pictures of our assigned beasts. The group has made sweet magic. My only regret is not having a pet Kneazle." – Michelle "ChefMitchie" Curran aka Michaeleas Cuuragusta, Headmistress
Here is Kyoko's description of this Fabulous Edible Beast:
Study about jobberknoll Name: I named him "Twinkle the Shiningstar"
Notable behavior: I watched him flying day and night and noticed he was incredibly quiet, didn't sing at all. but he seemed to enjoy listening sounds, even he had a great sense of rhythm. I noticed his body increased speckles on his feather day by day and he grew speckles at night as if he will become a shining star someday.
Feeding notes: He preferred to have small insects which can be found especially around chrysanthemums.
Injuries sustained by caretaker and aid taken: I was about to be pecked in the eye by his sharp beaks when I tried to get a closer look of his feather, but only ended my attempted before getting serious injuries.
Injuries sustained by Jobberknoll and aide taken: Jobberknoll got injuries only once when he flew in the thunderstorm, he was almost struck by lightning. so I wrapped him up with petals of chrysanthemums over night for quick recovery and life-prolonging longevity. Eventually I could take it captive because of lightning he dropped on the ground once. But next morning he fully recovered and took off to the sky before I woke up. He left a beautiful fully speckled feather for me. I often visit my Pensieve to watch a moment where he was swinging with music.