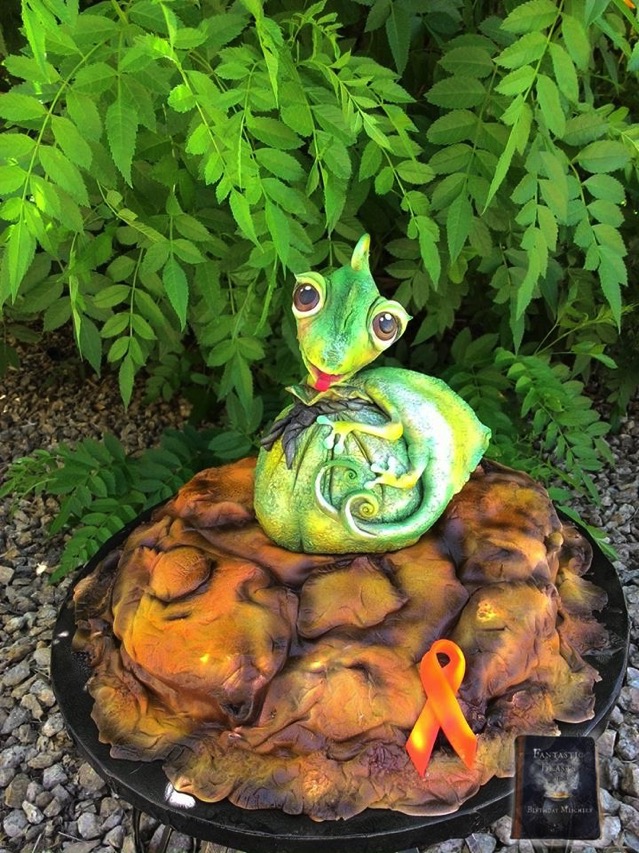 This Terrific Moke Cake was made by Brealope Foggyfoot – Breanna O'Donnell Kealey from Inspired Sugar.
This Terrific Moke Cake was made for the Fantastic Beasts and Where to Find Them Collaboration.
The collaboration of food artists from around the world, known as Birthday Mischief Managed have assembled to debut their second installment of edible art in celebration of world-renowned author, J.K. Rowling's screenwriting debut and newest movie trilogy – "Fantastic Beasts and Where to Find Them".
"Fantastic Beasts and Where to Find Them", is an A to Z "textbook" of magical creatures that have been featured in the Potter film series and publishing's of J.K. Rowling. For this collaborative effort some of the beasts were removed from the list inside the textbook and each artist was asked to create the remaining using only their imaginations and the book's descriptions with sweet edible mediums. Each artist has dressed for the occasion and transformed themselves into "Magizoologist". Be sure to visit their pages and read the documents kept about their beast.
Our biggest challenge was resisting the urge to research, (cheat) pictures of our assigned beasts. The group has made sweet magic. My only regret is not having a pet Kneazle." – Michelle "ChefMitchie" Curran aka Michaeleas Cuuragusta, Headmistress
Here is Breanna's description of this Fabulous Edible Beast:
Name: Piftsy Noteable Behaviors: Piftsy is a clever girl. Don't let her sweet smile fool you, she told me in no uncertain terms that she has zero intention of ever becoming-and I quote- "Some silly muppets catchall to hold their lipsticks, acne cream and rag magazines". One of her favorite pastimes is a game she calls "cock-up the Muggles" which basically involves her playing petty tricks on the muggles who can't see her due to her quick shrinking abilities. She particularly loves changing their Mobile ringtones to songs like "Mmmbop" and "Achy Breaky Heart".
Feeding notes: Moke's enjoy a varied diet consisting mainly of insects but most also enjoy a strong cup of coffee. Piftsy's favorite local shop- South Coast Roast- makes the "best bloody flat white you've ever tasted" and she loves to yell "only wankers drink cappuccino" to unsuspecting tourists on their way out.
Injuries sustained by Caretaker and aide taken: The only major injuries I sustained during my study was to my pride. Piftsy recommended I rethink my current eyebrow strategy (among other things). Aide taken: I've scheduled a waxing…
Injuries sustained by Study/Beast and aide taken: ha. I suspect she will live to be a ripe old age and has made it very clear that should she ever be captured for use as a Mokeskin bag…she will be sure to tattoo foul words and gestures into her hide…
Has study been released if you took it captive? If yes, where? I was never under any control of my study. Ever.
Any other notes you took during your study: I thoroughly enjoyed my time with this feisty little lady.