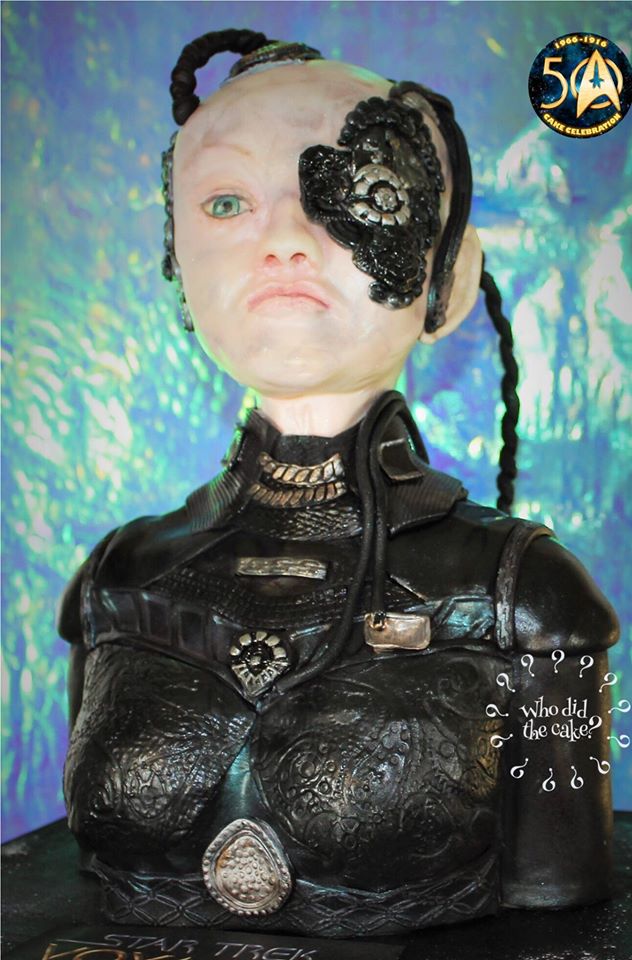 This Marvelous Seven of Nine Cake was made by Helen Wilkinson from Who did the Cake?
This Marvelous Seven of Nine Cake is part of Star Trek Cake Celebration. A group of 35 cake designers and sugar artists from all over the world joined together to celebrate the 50th anniversary of Star Trek. These cakes are associated with the Cake: The Final Frontier – A Celebration of 50 Years of Star Trek Collaboration.
Here's Helen's bio:
Helen's favourite type of cake to make is 3D and she loves realism. She has been decorating in total around 4 years. She hopes one day soon to be designing and teaching cakes full time. She has earned numerous awards from the Sydney Royal Easter Show, Cake Bake and Sweets Show, Salon Culinaire (Gold Medal), and various local competitions.
Here's Helen's description of this Fabulous Star Trek piece:
I'd like you to meet my favourite character Seven of Nine from the Voyager series (full name, Seven of nine, tertiary adjunct of unimatrix 01) here she is as a Borg and during her transformation to humanoid, I'm a huge fan of steampunk as well as a bit of a Trekkie, and maybe this is why I chose her, she stands about 40cm high and is made of fondant and made from awesome Chocit modelling chocolate, coloured with an airbrush.