This Superb Leprechaun Cake Topper was made by Misty Moonshine from Tasty Cakes.
This Superb Leprechaun Cake Topper was made for the Fantastic Beasts and Where to Find Them Collaboration.
The collaboration of food artists from around the world, known as Birthday Mischief Managed have assembled to debut their second installment of edible art in celebration of world-renowned author, J.K. Rowling's screenwriting debut and newest movie trilogy – "Fantastic Beasts and Where to Find Them".
"Fantastic Beasts and Where to Find Them", is an A to Z "textbook" of magical creatures that have been featured in the Potter film series and publishing's of J.K. Rowling. For this collaborative effort some of the beasts were removed from the list inside the textbook and each artist was asked to create the remaining using only their imaginations and the book's descriptions with sweet edible mediums. Each artist has dressed for the occasion and transformed themselves into "Magizoologist". Be sure to visit their pages and read the documents kept about their beast.
Our biggest challenge was resisting the urge to research, (cheat) pictures of our assigned beasts. The group has made sweet magic. My only regret is not having a pet Kneazle." – Michelle "ChefMitchie" Curran aka Michaeleas Cuuragusta, Headmistress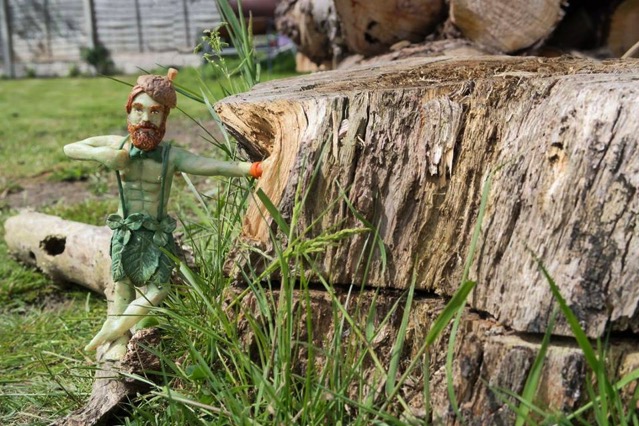 Here is Lara's description of this Fabulous Edible Beast:
Name: Fergus O'Malley
Notable Behaviors: Very Charming but mischievous.
Feeding notes: Can take care of himself.
Injuries sustained by Caretaker and aide taken: None
Injuries sustained by Study/Beast and aide taken: A toe was stubbed while photographing, but apparently a small glass of Irish Stout fixes everything.
Has study been released if you took it captive? If yes, where? He was sent back to Ireland with my mother in her suitcase. (He lives at the bottom of her garden)
Any other notes you took during your study: Fergus is part of a very large family so knows how to get along with everyone. He is mischievous, but also has a heart of gold. He lives outdoors but likes to be asked inside on very cold Irish winter nights. He drinks stout with every meal.