This Terrific Locutus of Borg Cake was made by Paul Redmond from Purple Feather cake Design.
This Terrific Locutus of Borg Cake was made for the Cake: The Final Frontier – A Celebration of 50 Years of Star Trek Collaboration.
Cake and sugar artists from around the world have come together to share their love of Star Trek. Cake, fondant, gum paste, chocolate, and gelatin were used to honor the 50-year legacy of Gene Roddenberry's incredible vision of the future. These were presented in Las Vegas, Nevada at the Star Trek:Las Vegas 50th Anniversary convention, in partnership with Roddenberry Interactive, August 3-7, 2016.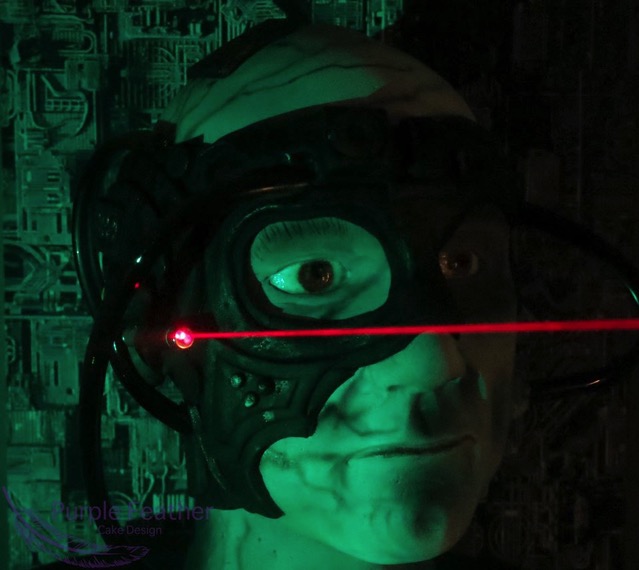 Here is Paul's description of this Fabulous Star Trek edible creation:
Drum roll… Okay so you'll probably need to be a bit of a Trekkie to appreciate this…. Under the guidance of Captain Scott Russell, cake decorators from around the world were asked to celebrate Star Trek's 50th anniversary. We've got the full backing of the show's creators and as we speak there's an exhibit of our work at the world's biggest ST convention in Las Vegas. I shipped my piece over but alas transwarp conduits haven't been discovered yet and he didn't quite materialize in one piece. For those of you that don't know, it's captain Jean Luc Picard (played by Patrick Stewart) after he's been assimilated into an alien race called the Borg. He then became Locutus of Borg.
This is a Wonderful edible representation of Captain Jean-Luc Picard as Locutus of Borg. He has the Borg implants on his head and face. I love the way there is a working light on this cake. The light makes it look like a scene out of Star Trek: The Next Generation.