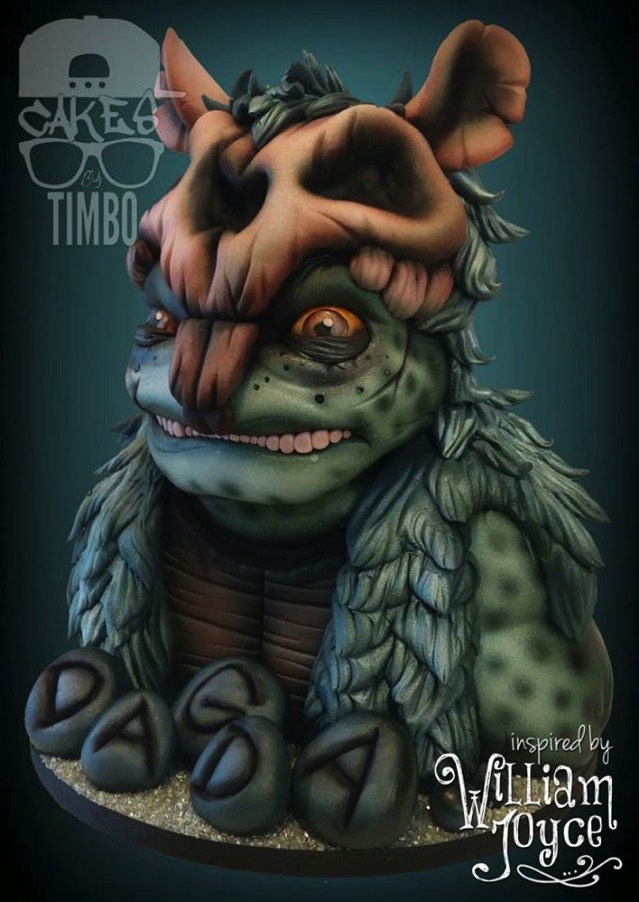 This Fabulous Dagda Cake was made for the Inspired By William Joyce Collaboration which is a cake collaboration based on the work of American author, illustrator, and movie director, William Joyce. William Joyce has written over fifty children's books such as George Shrinks, Dinosaur Bob and his Adventures with the Family Lazardo, Rolie Polie Olie, The Leaf Men and the Brave Good Bugs, The Numberlys, A Day with Wilbur Robinson, and Jack Frost. His works have been on the silver screen and in video games in Robots, Numberlys, The Fantastic Flying Books of Mr. Morris Lessmore, Epic, Rise of the Guardians, and Disney/Pixar's Toy Story and A Bug's Life.
Heather McGrath, the person responsible for this wonderful collaboration, loves reading books to her children. Many of her favorite books that feature amazing worlds, creatures, and adventures, were created by the amazing William Joyce. She would revel in the visual stimulation of each of his books. Every page inspires her own creative synapses, telling her to go create! She found other bakers who were as inspired by William Joyce's work as she. Thus is the origin of all of these wonderful edible William Joyce inspired creations.
This Fabulous Dagda Cake was made by Timbo Sullivan from Cakes By Timbo.
Here is Timbo's bio:
Timbo has been a cake artist for about 5 years now and teaching for 2. He has a true passion for painting, carving and cake art – sculpted cakes specifically. He is best known for his bold, colorful and eye catching style of caking. He takes pride in being able to teach and create, what others refer to as edible masterpieces, with minimal tools and regular household supplies.Timbo has had cakes featured in multiple cake decorating Magazines such as CakeMasters, American Cake Decorating and CakeCentral, and has won a number of awards, ribbons and certificates from cake competitions and contests around the U.S. He has been featured on Fox's Good Day Columbus twice, GSN's SkinWars, the Food Network multiple times, and was even one of the winners of Food Network's Duff Till Dawn, where he and his partner took home the Golden Whisk!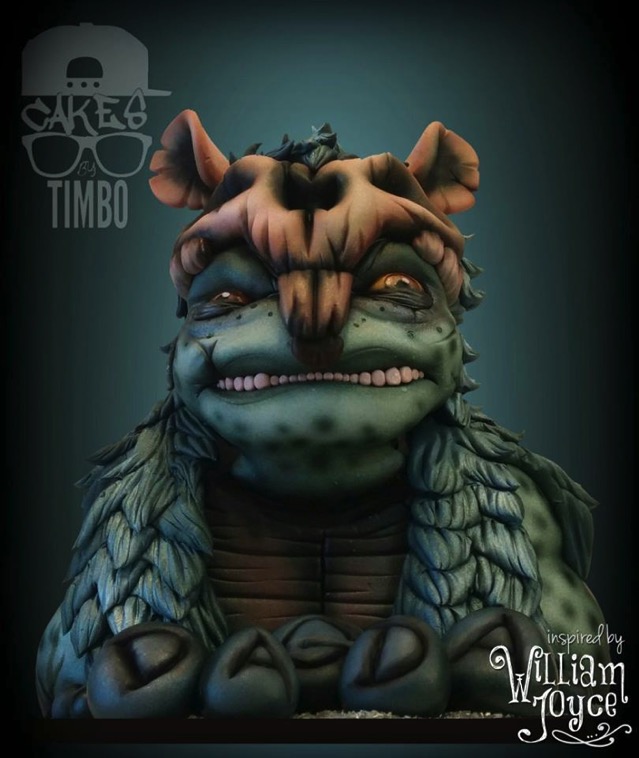 Dagda was the son of Mandrake, the Boggans leader. Dagda and the Boggans are enemies of the Leaf Men in Epic.