This Fabulous Bust of Harry Potter Cake was made by Ana Lucia from Cookies & More.
This Fabulous Bust of Harry Potter cake was made for the Cakeflix Collaboration which is a public international cake collaboration created by Isabel Tamargo with more than 300 pieces to make a tribute to the world of Movie Cinema and Television Series.
Here is Ana's description of this Fabulous cake:
I chose the Harry Potter film because it and the Harry Potter books have always been my favorites. My ideal subject to work with and create is the magic world. The piece is made of fondant and sugar modeling paste.
Harry Potter Hola yo soy Ana Lucia! Esta es mi pieza para la colaboración, me decidí por la película de Harry Potter pues ha sido siempre mis favoritas al igual que los libros, mi tema ideal para trabajar y crear siempre es el mundo mágico me encanta!! La pieza esta realizada en fondant y pasta de goma.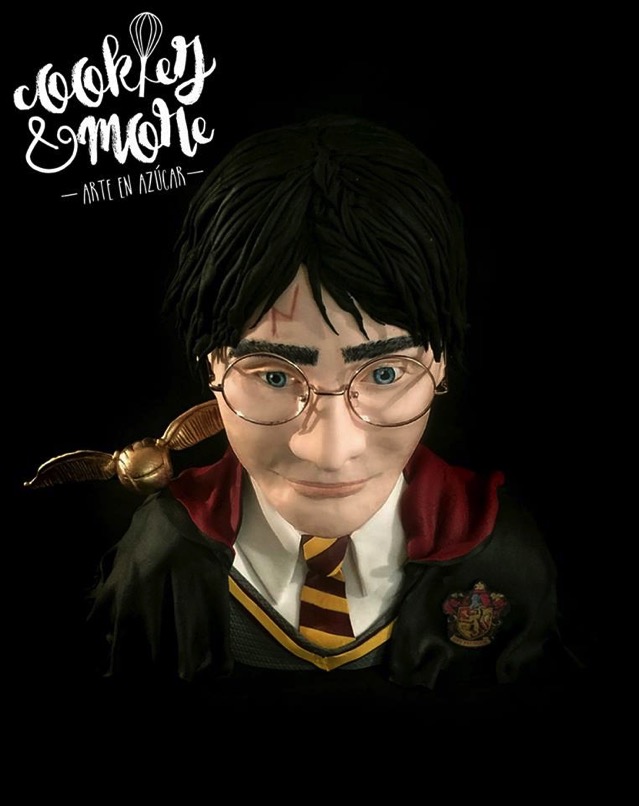 Harry Potter has a Golden Snitch on his shoulder. He has the scar of his forehead. He is wearing the sweater, tie, and robes of the House of Gryffindor in Hogwarts School of Witchcraft and Wizardry.