This Magnificent Harry Potter Cake featuring Hagrid's Hut was made by Roses and Bows Cakery. The detail of this cake is incredible. The wooden doors have metal hinges and knockers. Each stone is separate and the roofs and chimney show each individual shingle and brick.
This cake is part of the Birthday Mischief Managed Worldwide Collaboration of Food Aritsts to celebrate J.K. Rowling's 50th Birthday. The collaboration went live on July 31st the date of H.K. Rowling's and Harry Potter's birthday.
This edible Hagrid's Hut will be on display at the Manorhamilton library in Leitrim, Ireland, over the next two weeks.
Here's a view of the rear of Hagrid's house.
The inside of the house has a table with a birthday cake to celebrate Harry Potter's birthday. There is a cake decorator bag of green icing on the table beside the cake. There is a gift on the floor with the name Joanne for J.K. Rowling. It is sitting beside a bag of flour. The floor of the house is made of wooden boards.
I like the way green icing is on the floor beside the cake. It looks like Hagrid made a birthday cake for Harry. The present for Joanne is a nice touch.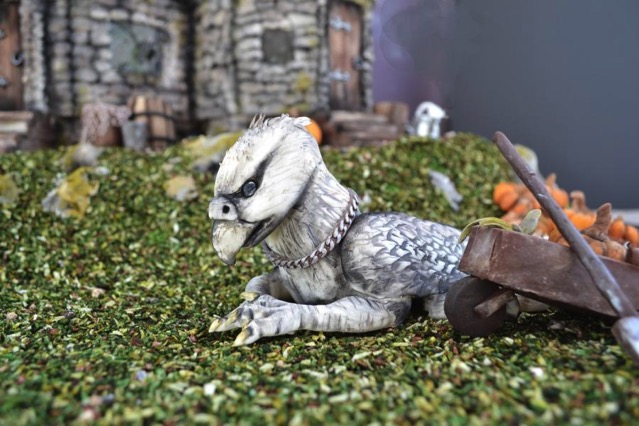 Here's a close-up of Buckbean, a grey colored Hippogriff. Buckbean appeared when Hagrid talked about Care of Magical Creatures. A wheelbarrow and a shovel are beside Buckbean. There are pumpkins in the background behind the wheelbarrow.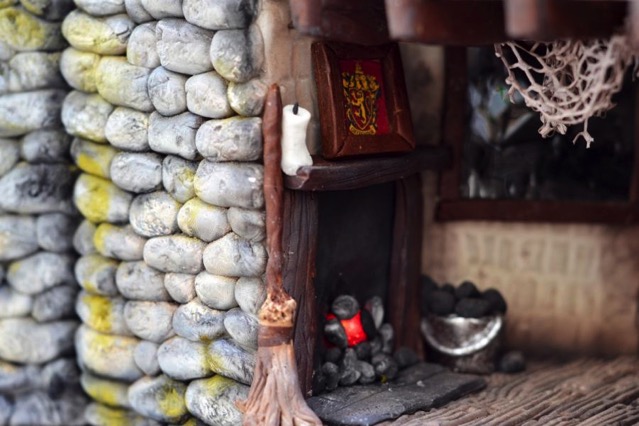 The fireplace has a lit fire and the crest of Gryffindor on top of the mantle. There is a broom beside the fireplace and a bucket of coals on the other side of the fireplace. Notice the individual gray stones of the hut.