This Wonderful Harry Potter cake was created by Mitchie Curran, aka. Chef Mitchie, of Mitchie's Munchies and is inspired by Herbology Studies at Hogwarts. Chef Mitchie came up with the wonderful idea of creating a character for herself in the Harry Potter universe called Michaeleas Cuuragusta.
This character is named the Headmistress of Birthday Mischief which is explained below.
Michaeleas created a new kind of Wizarding plant that can be given as a birthday gift. Seeds are planted and a spell is cast causing a flaming blue birthday cupcake to bloom before the birthday person's eyes. The spell incantation is written on the side of the pot.
This Harry Potter Cake is part of a fabulous cake collaboration where Chef Mitchie invited fifty cake artists to come together to celebrate the birthdays of J.K. Rowling and Harry Potter in the Birthday Mischief Managed Worldwide Collaboration of Food Aritsts. It is J.K. Rowling's 50th Birthday. The collaboration went live on July 31st the date of J.K. Rowling's and Harry Potter's birthday.
Each artist created an original edible work of art. They included hidden gems for fans to find.
This seed packet was made by hand painting onto wafer paper. The words 'Placentam Ramus' are Latin for 'Cake branch'. Once planted and the spell Aguamenti is cast, the branch grows while being viewed by the birthday person and blooms a cupcake that burns a blue flame.
This new Herbology Birthday plant starts with Placentam Ramus seeds. The spell incantation 'Aguamenti' that make the seeds grow into a cupcake is written on the side of the pot.
The plant begins to sprout.
The first bud appears.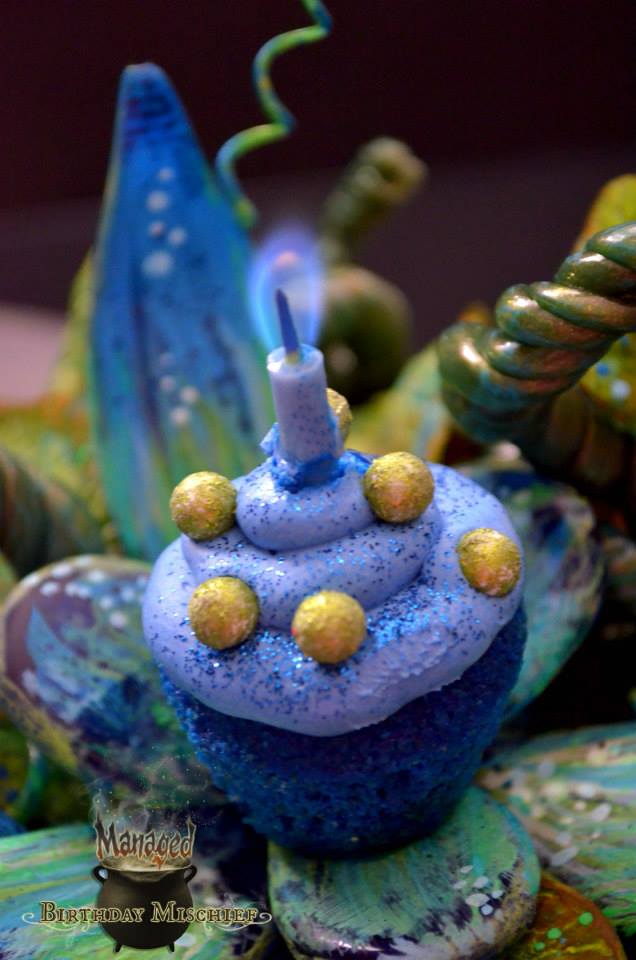 A cupcake blooms. It even has a flaming birthday candle.
The planter and soil were made using double fudge cake with caramel macchiato filling. The plant, flowers, vines, leaves, and seeds were made using isomalt.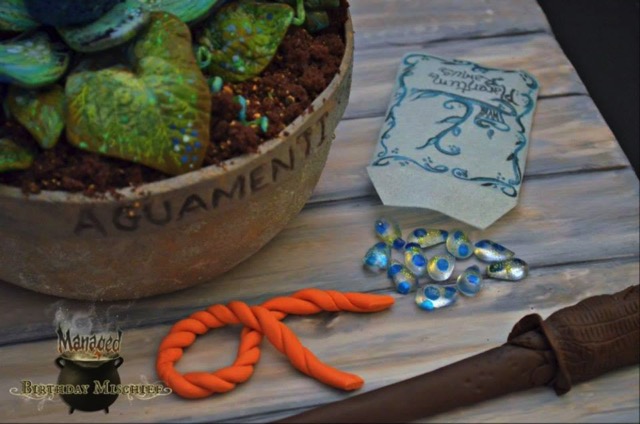 Here's a close-up of packet of seeds, the magic wand and an orange ribbon. The orange support ribbon is in memory of J.K. Rowling's mother.