Mitchie over at Mitchie's Munchies let me know about this Splendid Fargo Cake Topper that she made for the Simi Isomalt Torch Team.
The theme of this year's Isomalt Collaboration was Winter Isomalt. This group uses sugar isomalt and tools like a blow torch to create amazing edible masterpieces.
Mitchie chose to use the movie Fargo as inspiration for her piece.
She describes the entire movie as all snow and 'malfeasance'.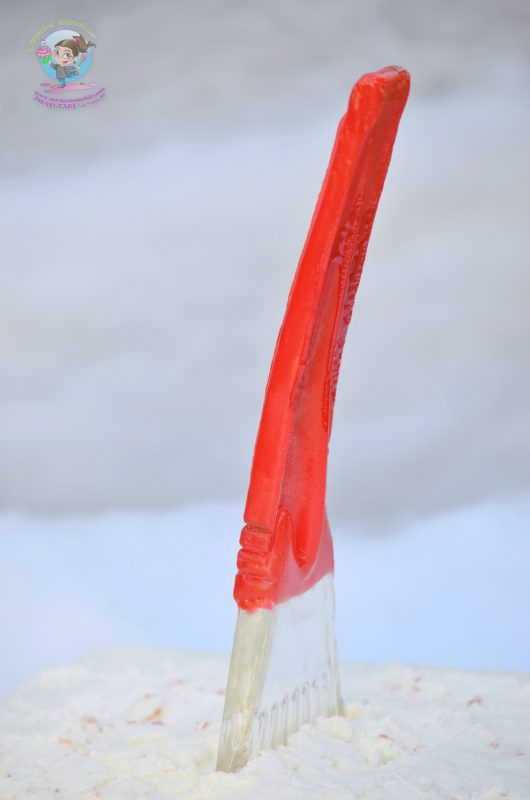 SPOILER ALERT She chose the scene when Carl Showalter (Steve Buscemi) buries the ransom suitcase. He uses an ice scraper to dig a hole in the snow.
After burying it, he looks around and sees that everything is covered with snow and looks the same. He places the ice scraper over the place where he buried it as a way to amrk the spot for later retrieval.
Here's Mitchie's description of her amazing piece:
The scraper is freestanding (no internal structure) and life size; ten inches high. I used just a little over a pound of precooked isomalt tiles and food coloring gels from Chefmaster to dye the handle and white snow. The handle is pulled and shaped while the blade was created by making a cast into food safe molding silicone. (Sidenote: you'll want to use a quality food safe silicone to keep your isomalt creations crystal clear and free from pitting.)
Take a look at her web site to see how she made the snow from isomalt.