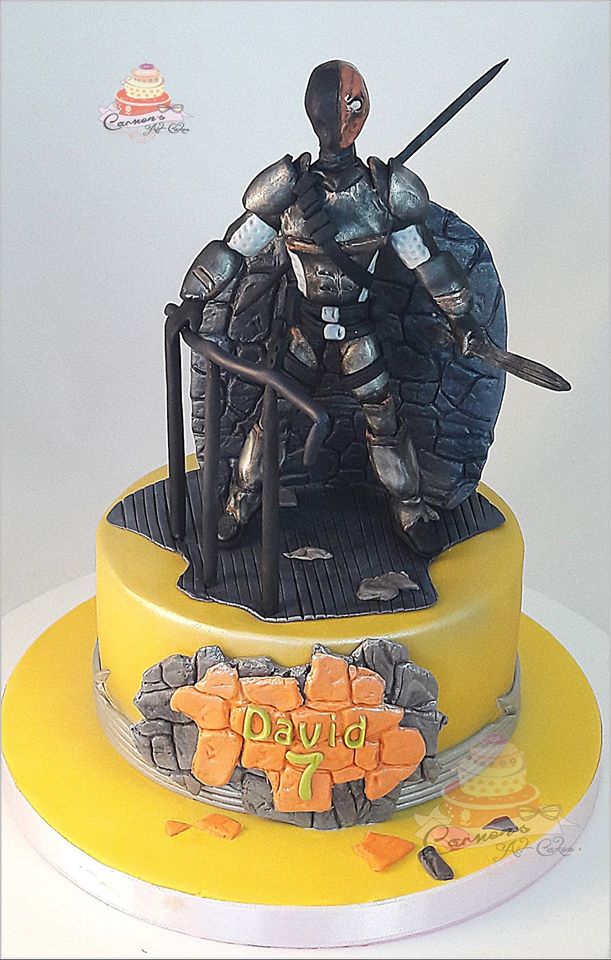 This fabulous Deathstroke 7th Birthday cake was made by Carmen Iordache. It features an edible handcrafted figure of Deathstroke on top. He is standing on a platform and holding on to a rail. He has a knife in one hand. On the side of the cake are orange stones with the birthday age and name written in yellow letters.
Deathstroke began as a villain in New Teen Titans and he has become one of DC Comics most popular villains. He is one of the few villains to regularly have his own comic book title. While he is still a Teen Titans foe, he is also an opponent of Batman and Green Arrow. Deathstroke has been on the a bunch of TV shows including Arrow, Young Justice, Titans & Teen Titans Go and made a cameo in Justice League and the cleverly named Teen Titans Go To The Movies. He even has his own animated series on CW Seed.
While Deathstroke is extremely popular, his greatest legacy can be found in Marvel's comics and movies. Deathstroke, aka Slade Wilson, is a mercenary with a dual colored mask who carries a sword. Deadpool, aka Wade Wilson, is a mercenary with a dual colored mask who carries two katanas. Deadpool was originally created as a tribute to Deathstroke and Marv Wolfman and George Perez's New Teen Titans. Over the years Deadpool has grown into his own unique character.