Have I got a treat for you today! I have the coolest Masters of the Universe Cake that you'll ever see and I brought along a guest to help celebrate. This superb cake was made by Silvana Ribeiro Cake Designer.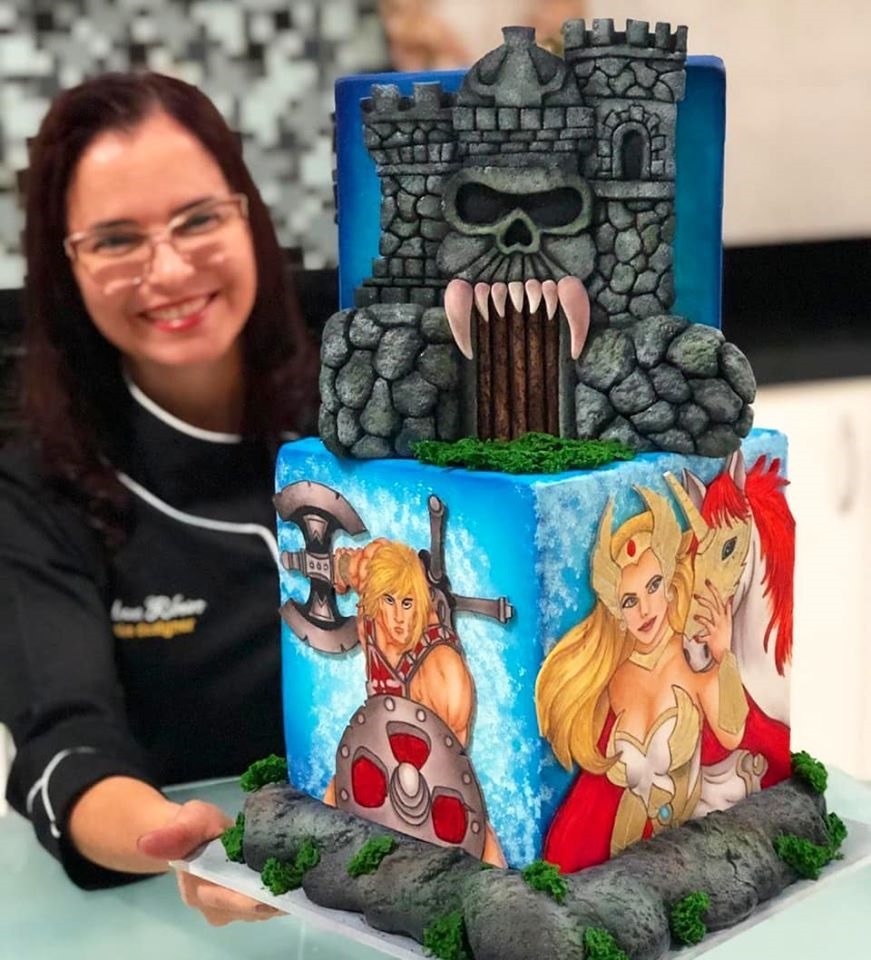 Here is Silvana with her stunning cake. I really like the design of this cake. Usually, when you make a square cake with two tiers, you have the squares facing the same way and you make the top square slightly smaller. Silvana literally turns this around, she has the top and bottom tiers at different angles so that you can see all three decorated sides. This makes this gorgeous cake stand out even more.
Castle Grayskull is amazing. I really like the detail and texture on the stones.
Here is She-Ra with Swift Wind. The detail on She-Ra's hair and outfit and Swift Wind's mane is wonderful.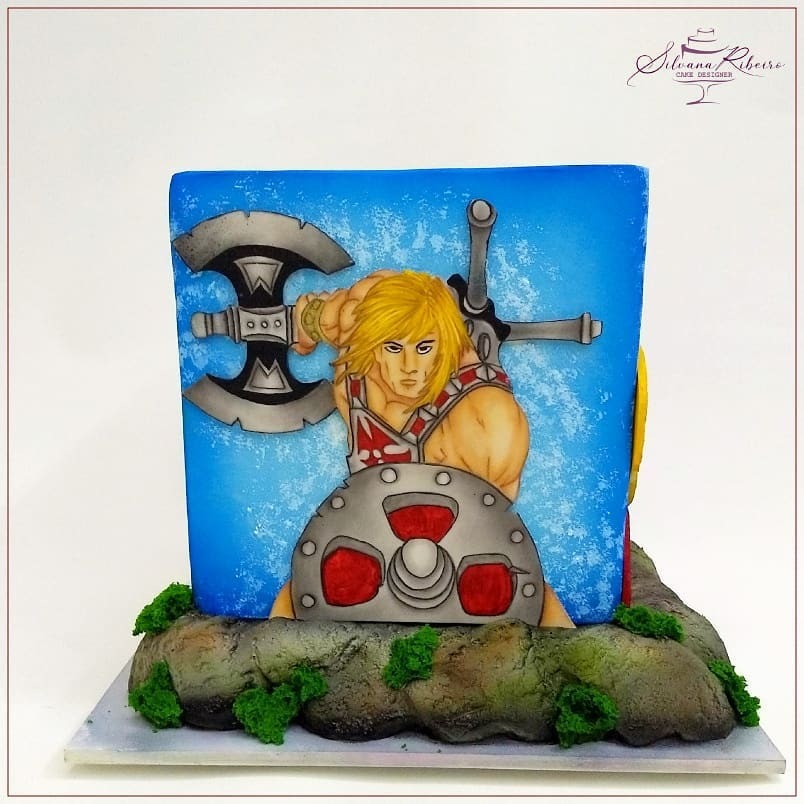 He-Man looks ready for combat.
Here is an video tour of this awesome cake!

A cake this wonderful deserved a party, so I invited my good friend Vic Sage to help us celebrate. Vic runs the amazing blog Pop Culture Retrorama and three awesome podcasts – Diary of An Arcade Employee, Saturday Frights, and Pop Culture Retrorama.
Vic is a great storyteller and writer. There are three things which really make his posts and podcasts stand out. First, my least favorite part of pop culture is the negative side of so much of fandom. That's why on Between the Pages, I focus on what I love. Vic and I are kindred spirits. Vic focuses on what he loves. Because of this, there isn't any negativity in his content. If you want to see the best of fandom, check out Pop Culture Retrorama. Second, Vic is a storyteller, so almost every one of his posts includes a personal story about his fandom. Third, Vic never looses sight of the fact that the pop culture we love is created by someone. Vic's knowledge and research into the creators behind our favorite stories and characters is absolutely amazing.
If you've never visited Vic's blog, here are a few of my favorite posts:
Love Thy Monster – The Unaired Colored Pilot For The Munsters
I've liked the Munsters since I was a kid. Vic did a wonderful post recently about an unaired pilot for the Munsters. There were two things that made this pilot fascinating – it was in color and don't tell Lily, but Herman had a different wife, Phoebe.
Retro Records: The Haunted Mansion (1970)
Unless this is your first time visiting Between the Pages, you've probably figured out that I love Disney. This great retro record, which I actually own on CD, is a wonderful way to enjoy some spooky Disney magic from home.
Do You Remember Fruit Pie The Magician And Twinkie The Kid?
My first two picks were retro and Disney, so of course my next pick had to be about food. Vic loves the mascots that were used on cereals, snack food, and fast foods, so he blogs about them regularly. This fun post focuses on two forgotten Hostess mascots.
Pop Culture Retrorama Podcast Ep. 07 – The New Scooby Doo Movies
My last recommendation is for one of Vic's amazing podcasts. Since I've been watching and thoroughly enjoying Scooby-Doo and Guess Who? on Amazon Prime Video, I had to pick this great episode about everyone favorite ghostbusting dog.
Here are Vic's memories of:
My First Visit To The Savage World Of Eternia
Friends, in 1982 there was one toy line that I absolutely adored – that was of course the Star Wars collection from Kenner. While money was extremely tight while I was growing up, in truth I had obtained a pretty impressive collection of my favorite characters from both Star Wars as well as Star Wars: The Empire Strikes Back. Beginning in 1982 however I was finding myself at a crossroads of sorts – my love of video games and a new toy line from Hasbro called G.I.Joe: A Real American Hero along with Star Wars were now all competing for my attention. Little did I know however when I was visiting the local mall on a Saturday afternoon that I was about to find yet another brand new toy line. -One that would allow me to start playing in a Sword and Sorcery setting that I had grown to enjoy thanks to the likes of Rankin and Bass' animated adaptation of The Hobbit or of course the brutal and bloody Conan the Barbarian! That new toy line would be none other than Mattel's Masters of the Universe and it would afford me my first visit to the savage World of Eternia!
Now the truth of the matter is visits to the local mall were very rare and far between, the majority of our shopping was done at the nearby Walmart. The reason we were at the mall that Saturday afternoon was because I needed a suit for an upcoming Family wedding and while we were there though I spied a toy store. I somehow managed to talk my Father into letting us stop in and check it out. While I will admit I have long forgotten the name of the shop – I only visited the one time – I can at least tell you that it wasn't a chain store. This little shop was packed with model kits and high end doll houses, a few board games ranging from Dungeon! to Yahtzee and of course a smattering of action figures and accessories. In between the Star Wars toys as well as Clash of the Titan figures were four Masters of the Universe action figures. He-Man, Skeletor, Man-At-Arms, and Beast Man immediately captured my attention – for one thing they were quite a bit larger than any of the other figures at the time. I was drawn to He-Man in particular as his action figure came with a shield, what looked like half of a sword, and an honest to goodness battle axe.
I think it would be fair to say that my Father realized how taken I was with these Masters of the Universe toys . I wasn't even remotely entertaining the idea of taking one home, gifts were generally received on my birthday and Holidays – but I can recall my Father leaning next to me and saying I could choose one to buy. I was very tempted by Man-At-Arms, probably had something to do with that amazing looking armor he wore and heavy mace he brandished – but it was He-Man… and that battle axe that won out in the end. There was something else that caught my eye with the Masters of the Universe toy line – the addition of a mini-comic with each figure. As we were driving home, I wasted no time in ripping open the packaging – laying my eyes on Alfredo Alcala's beautiful cover art for the He-Man And The Power Sword mini-comic… I just had to start reading it. Slouching low in the front seat with my knees propped against the dashboard – I took my first journey to Eternia and found myself becoming totally hooked on the Masters of the Universe franchise.
I realize that many of you that are reading this article are aware that the Eternia presented in those original mini-comics were far different than what we saw in the equally excellent He-Man and the Masters of the Universe animated series. While there still existed slight science fiction elements – the original lore as written by Donald Glut and illustrated by Alcala presented Eternia as a Planet that suffered over the years from the Great Wars. The brilliant scientists of Eternia and their most powerful sorcerers found themselves centuries before waging a battle against invading hordes from an alternate dimension – one populated by the likes of Skeletor and his kin. That mighty civilization was wiped out but their advanced technology and magic survived – much of it hoarded in the mysterious and dangerous Castle Grayskull. It was a mighty barbarian, known as He-Man, who upon leaving his jungle tribe is chosen by the Goddess (later known as the Sorceress) to use the the powerful weapons and equipment that she had been tasked with guarding. The barbarian's already impressive strength was magnified to superhuman levels thanks to a special harness – allowing him to reduce a cliff face to rubble with a few mighty swings of his fist.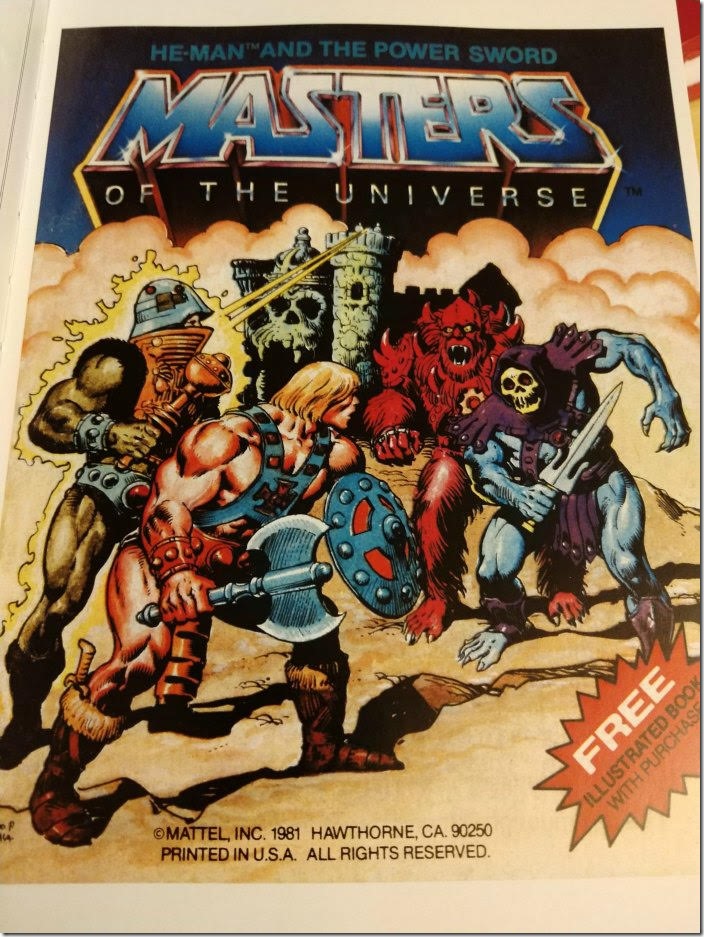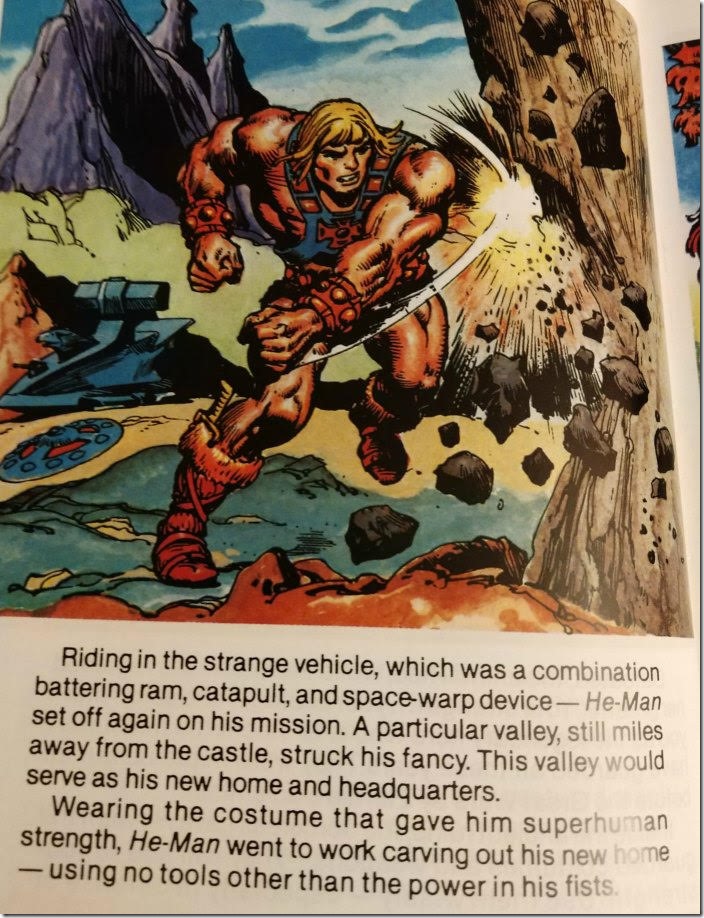 It was He-Man And The Power Sword that laid the groundwork for how Skeletor's overall goal was to obtain both halves of the Power Sword so that he could harness the secrets of Castle Grayskull… and make Teela his Bride too if time permitted. Thankfully Teela, He-Man, as well as Man-At-Arms united to protect Castle Grayskull from Skeletor and his evil minions. I learned all of this on the drive home while reading the mini-comic and afterwards I excitedly told my Father all about it – and I would keep re-reading He-Man And The Power Sword again and again. A week later I was fortunate enough to be gifted Skeletor by my Grandmother – after all a hero needs a villain to fight against, right? By the end of the year when the Holidays rolled around I had received more figures and even the Castle Grayskull playset – which to my young eyes was the most impressive thing I had ever seen. Epic battles were waged on the dining room table or in the middle of the living room floor – although even with the savage conflicts for the fate of Eternia and Castle Grayskull – the forces of good always triumphed.
I didn't think I could be a bigger fan of the Masters of the Universe until near the end of '83 – I was outside playing with my action figures when my Grandmother called for me to rush into the house and quickly. I hope you can imagine my surprise when I ran inside to see an animated He-Man on the television screen – the first episode of He-Man and the Masters of the Universe. And while the animated series was certainly a less savage take on that first mini-comic – I still loved it and even counted myself a fan of the 1985 spin-off animated series, She-Ra: Princess of Power.
Even 38 years later, while I obviously do not play with my Masters of the Universe collection any longer – I enjoy looking at them on my toy shelves – a reminder of how it felt to take that first trip to Eternia.
That's not all folks. Be sure to come back tomorrow, when another special guest star and I celebrate Thundercats!!!