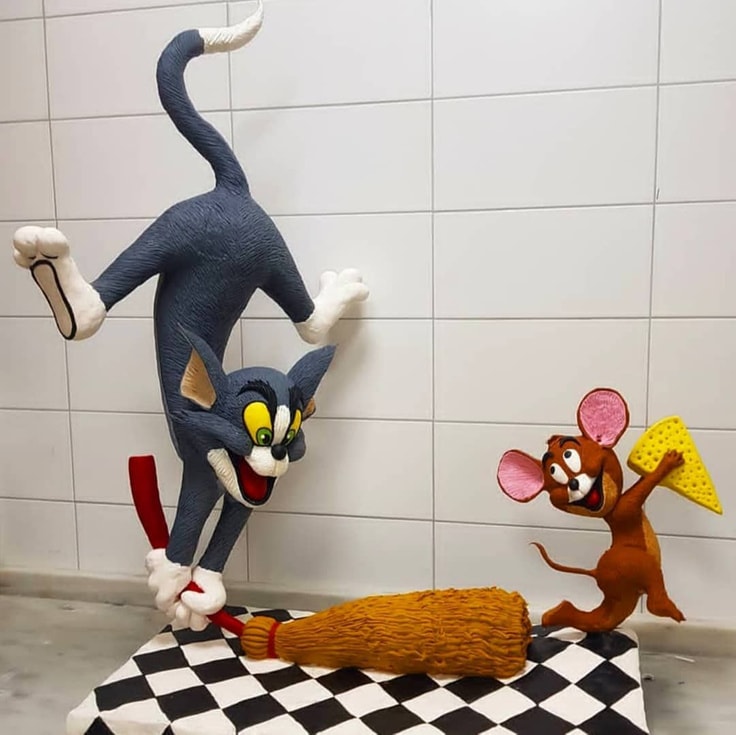 Tom and Jerry Cake Is Too Lovely To Eat
Yesterday, I featured a hilarious Donald Duck Cake made by Siraç Ciçek. It had an angry Donald Duck about to smash his alarm clock with a hammer. Today, I have another stunning cake by Sirac, this time it features Tom and Jerry.
When I was kid, children's programming was often hour long block of public domain cartoons broadcast on UHF channels. 90% of the cartoons were old Merry Melodies/Looney Tunes, Popeye and Tom and Jerry. My favorites were the Tom and Jerry cartoons, so I've been fan of these two characters for most of my life. For that reason, when I saw this amazing cake I wanted to share it.
Siraç's storytelling is wonderful. This looks more like a frame from a cartoon then a cake. Tom has a broom and looks happy to be swatting that pesky mouse. Jerry has a giant piece of cheese in his hands and is smiling because he has outfoxed Tom again. Just looking at this cake makes me grin.
I really like how the two characters defy gravity. Tom is swinging the broom with such force that he isn't touching the ground at all. Jerry is running so fast that only one knee is touching the ground. This is jaw dropping because it really makes this look like a cartoon and because it is so hard to pull off this well.
This is such a fun cake! It captures these two characters perfectly and it brings back memories of watching Tom and Jerry when I was a kid. I think it is time to finish this post, so I can switch to watching cartoons on YouTube!
For more cartoon fun take a look at these Tom and Jerry Cakes and Cookies.