Raya And The Last Dragon Dinner
I was tempted to name this post Raya and the Last Shrimp, but I wasn't sure if anyone would get the joke.
Sorrenteaux makes the most amazing pop culture dishes. This is her Raya and the Last Dragon dinner plater.
Here is her description directly from Instagram:
"We took a trip to the magical land of Kumandra for our #familymovienight, and had a feast inspired by Chief Benja and his daughter Princess Raya.
🐉 We started with Raya's jackfruit jerky (Chili + Lime Jackfruit Chews from@amazifoods), and finished with the stunning cookies from @alexiscustomdesigns.
Chief Benja's Soup:
🍤 Shrimp Paste from Tail
🌱 Lemon Grass from Talon
🎍 Bamboo Shoots from Spine
🌶 Chili from Fang
🌴 Palm Sugar from Heart
@disneyraya is undoubtably a new favorite movie in our house, with such a touching message. This momma cried plenty, and totally tried to play it off as though it was from the spice of the yummy soup. Have you watched it yet? Can you spot the "Dragon Gems" on the board?
💎🐉💎"
I love the way that Ashley chose foods that reflected the five tribes. Shrimp for Tail and Chili for Fang are just brilliant. Plus, she even added dragon gems.
Looking at this dinner makes me smile, the food looks delicious and the theming is wonderful.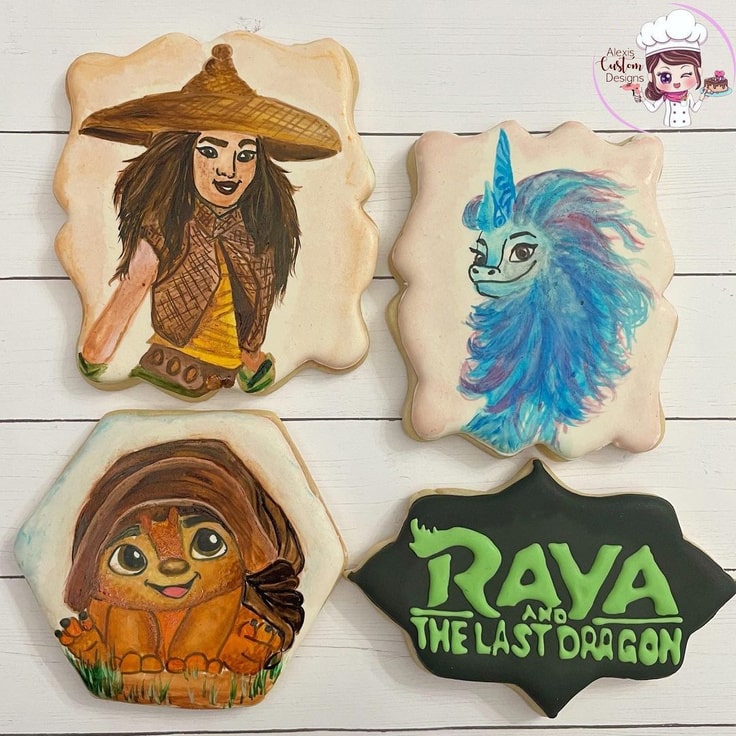 Raya And The Last Dragon Cookies
Alexis Custom Designs made these lovely hand painted Raya and the Last Dragon Cookies for this dinner. Alexis and Ashely team-up regularly to create these stunning meals.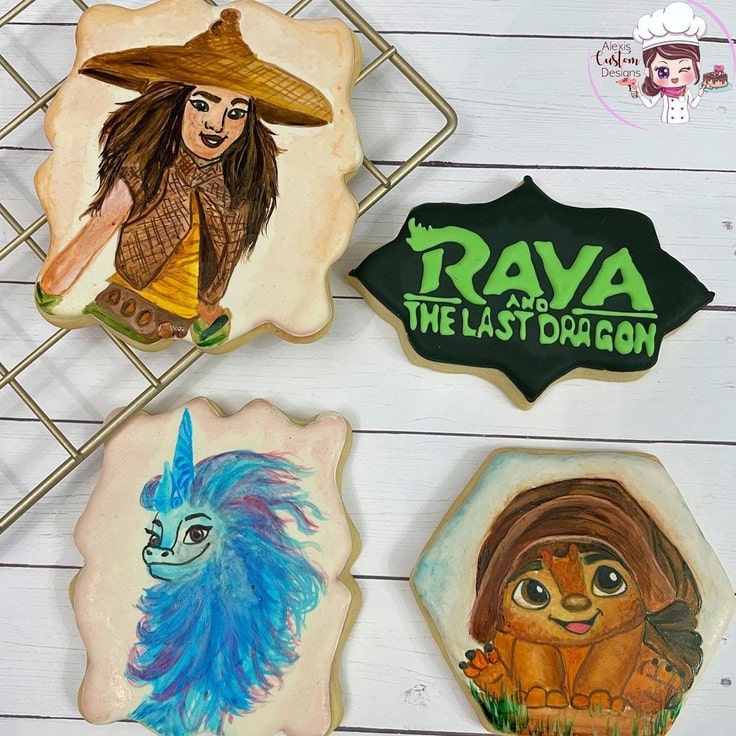 These great cookies features Raya, Sisu, and Tuk Tuk.