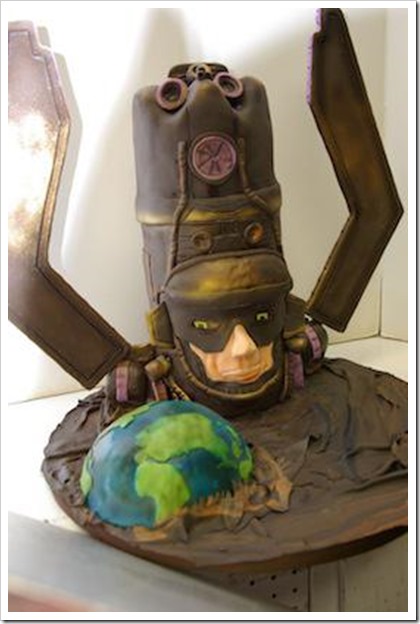 This marvelous Galactus Cake was made by Xtra Special Cakes. I love the design of this cake with Galactus preparing to devour the Earth. The cake even includes Galactus' gigantic headgear. My husband is a fan of the Fantastic Four, Galactus, and Silver Surfer. He would go crazy, if he received this cake for his Birthday.
Galactus and The Silver Surfer 1st appeared in Fantastic Four #48. Here is the final panel reveal of Galactus from that issue. In the next issue, Galactus' costume is purple and brown (the color scheme used by Xtra Special Cakes) and I kid you not, Galactus switches over to wearing shorts!
In the first 47 issues, when the Fantastic Four wasn't fighting among itself, it fought Doctor Doom, The Mole Man, Skrulls, The Hulk, The Sub-Mariner and many other foes. Galactus was different that any foe that the Fantastic Four had faced before. He wasn't evil. He was a being who was so large and so powerful that he ate whole planets. He created a herald, the Silver Surfer, to fly through space and find planets suitable for Galactus to consume. In Fantastic Four 47 through 50, the classic Galactus Trilogy, Galactus attempted to devour Earth. While Galactus is the menace in this story, the real focus in on the Silver Surfer. He would become an extremely popular character and even receive his own series. If you've never read the Galactus Trilogy, I highly recommend it. It is considered one of the high points in Silver Age Marvel Comics.