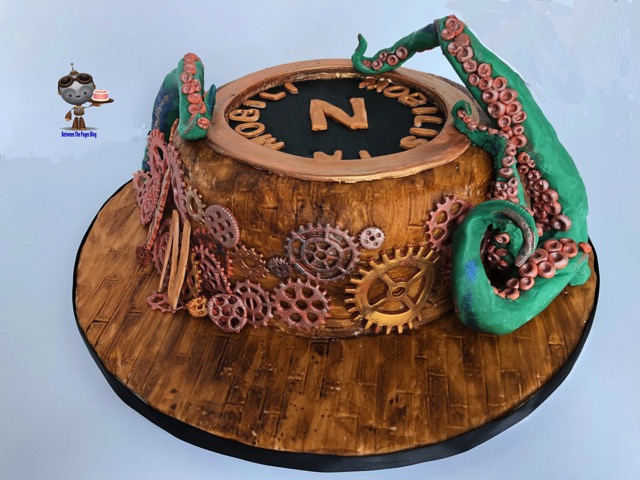 This 20,000 Leagues of Cake is a Steampunk cake that is a porthole, steampunk gears, and a sea monster and is a tribute to Jules Verne's 20,000 Leagues Under the Sea.
My daughter and I made this cake for the Steam Cakes – Steampunk Collaboration which is an international collaboration of cake artists to celebrate Steampunk's International Day. It was fun doing a project together.
She is a big fan of Jules Verne and suggested a cake that featured a porthole and a sea monster that was a tribute to Jules Verne's Twenty Thousand Leagues Under the Sea.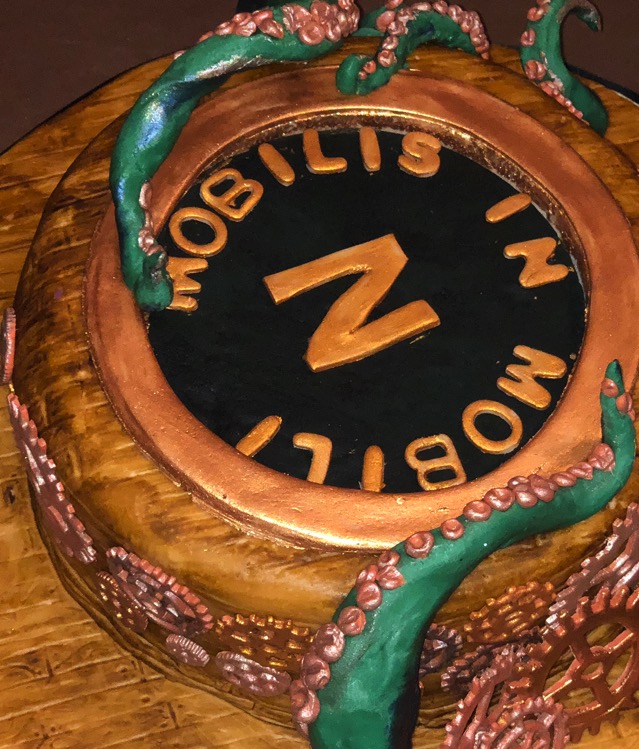 The motto of the Nautilus is Mobilis in mobili which is Latin for moving amidst mobility or moving in the moving element. The flag Captain Nemo raised when claiming Antarctica was black with these words and a capital N for the Nautilus.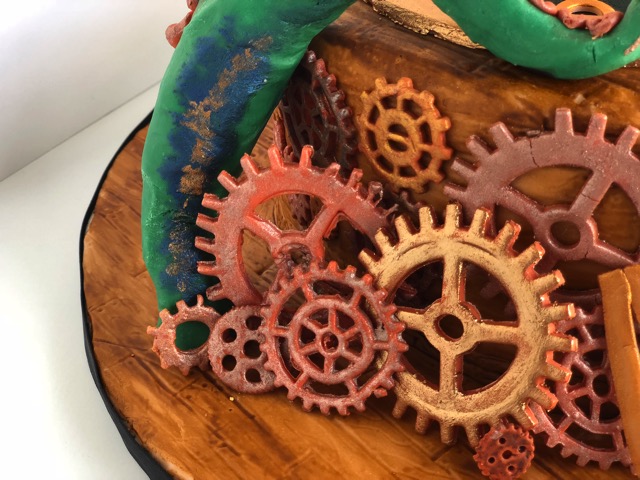 close-up of gears
Close-up of the sea creature's tentacles
A side view of the cake with all of the gears. In the gears in a metal N to stand for the Nautilus.
The cake board is covered in fondant made to look like wooden planks and the cake is covered in wooden planks to show it was made of wood. A metal ring is on the outside of the porthole. Sea monster tentacles are coming up toward the porthole. Inside the porthole is a black background with the words Mobilis in mobili.
The sea monster was made using green modeling chocolate that was painted with blue and gold luster dust. The suckers of the sea creature were colored copper to match the gears. The gears were painted in metallic colors of aztec gold, bronze, and copper.
I purchased gear molds made by Tracey Rothwell of Little Cherry Cake Company. They were great and easy to use. She has instructions on her web site.
Please take a look at all of the amazing cakes in this collaboration at Steam Cakes – Steampunk Collaboration.