If your are a fan of Star Trek, you'll instantly recognize the above cake as the hand held Communicator. This cake was made for Brad, a huge Star Trek fan. It is a Banana Nutella flavored cake. This cake was made by Cake Lava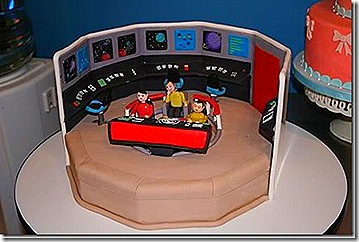 This Bridge of the Enterprise Cake was made by the nationally renowned Charm City Cakes The person in the red shirt is either Mr. Kyle, or Scotty is sitting in the wrong place.
This excellent sculptured Cake of Captain Kirk was made by Spense The cake is a pound cake covered in fondant. The body of Captain Kirk is made from Rice Krispies Treats and fondant, except for the head, hands and feet ,which are candy melts. All the candy was cast in molds that were made from original sculpts that Spense did. This cake won 1st place in the 2009 Star Trek Cake Contest on Cake Central.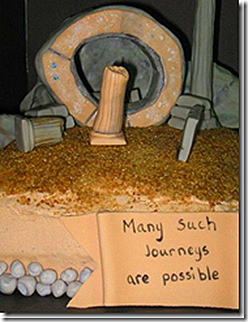 This cake recreates the planet surface from the original Star Trek episode "The City on the Edge of Forever". The cake is triple chocolate with toffee butter cream. All pieces are made from fondant, and the "sand" is raw sugar. The sign reads "Many such journeys are possible" and is what the Guardian says to Kirk when they return from the past. This cake was made by Kathy172
This bust of Spock cake was made by AdorableCakes. It is covered in marshmallow fondant.
These Star Trek The Original Series Gingerbread Cookies were made by Metallicar-67.