Wow!!! This absolutely stunning James Bond Cake was made by Kidacity. This is the prettiest James Bond Cake I've seen. The black and white is terrific and the James Bond figure is amazing.
This lovely cake was a birthday cake for a 70 year old (hence the 007). The letters were hand cut and the cake was hand painted. The James Bond figure was crafted from sugarpaste. The cake itself is white chocolate mud with milk chocolate ganache.
Here are some close-ups of this gorgeous cake:
Jacinta wanted the figure to look like Sean Connery and I think she nailed it.
Jacinta did a great job hand painting the logo. The white 007 against the black cake board looks terrific.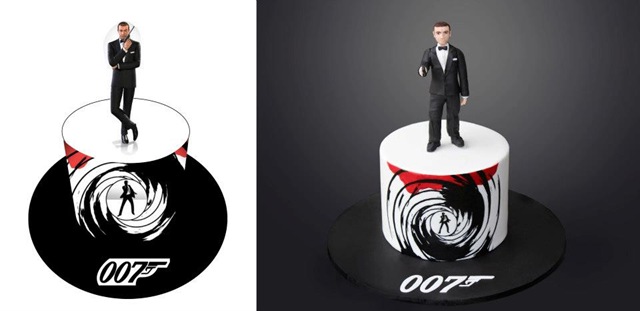 I thought this was so cool. Before starting on the cake, Jacinta modeled the cake in Adobe Illustrator. Here is the concept artwork and the actual cake. After doing the concept artwork, Jacinta came up with ways to make the cake look even better. She decided to make the graphic smaller so it wrapped around the front with a bit more detail, to reverse the text out rather than panel it on white and also to change Bond to Connery and have a stronger stance. The end results is a killer!