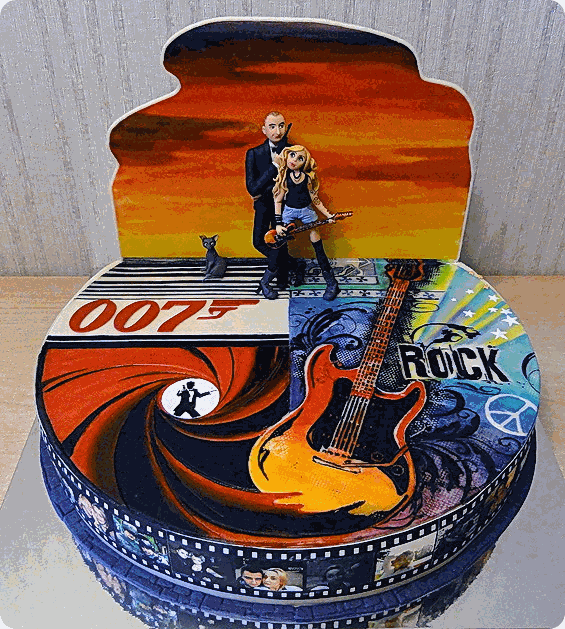 This stunning James Bond Wedding Cake was made by the amazing Art Cake in Russia. I love how the cake combines James Bond and Rock and Roll. The groom is dressed as James Bond. He has on a tuxedo and is carrying a gun. The bride is rocking out. She is wearing a black tank top, denim shorts, and long black boots. She has long blond hair and a black neclace. She is playing an electric guitar. I think it is absolutely hilarious that it looks like James Bond is hiding behind her. To one side is a black cat.
The cake has a pretty painted backdrop of a sunset. The cake itself is decroated in two different sytles. One side has the 007 Logo and the classic picture from the credits of James Bond shooting and everything turning red. The other side of the cake has the world Rock on it. It has a piece symbol and a giant electric guitar.
On the side of the cake are two film reels. At first I thought they were pictures from James Bond movies, but I was wrong. If you look closely, it is pictures of the bride and groom.
They way this cake mixes the groom's love for James Bond and the bride's love for Rock and Roll is wonderful.