The Angry Birds have finally had enough of the Bad Piggies and purchased an AT-AT from the Empire. They got it for a song. After this battle, Dr. Suess will finally be able to answer the age old question does Sam-I-Am like Eggs and Green Ham?
This marvelous Angry Birds Star Wars Cake was made by Cupcakes and Dreams. There is so much to love about this cake. The figures of the Angry Birds version of Luke Skywalker, Han Solo, and Chewbacca are wonderful. There are also three Imperial Bad Piggies. The detail on the Imperials is wonderful. Two of them have a black eye just like in the game. The other piggies is sitting on crate of dynamite which looks like it just beginning to explode.
The ground looks like snow. There are even snowballs on the ground. I love that there are pieces of wood scattered on the ground. I'm guessing that they are the remains of other crates of dynamite which have blown up.
The star of the cake is the awesome AT-AT. I love how it isn't an AT-AT from The Empire Strikes Back. Instead, it is the Angry Birds version of an AT-AT. Looking at this cake made me realize that I'd love to see an Angry Birds Star Trek game. Can you imagine an Angry Bird version of a Bird of Prey?
Here is terrific view of the front of the AT-AT. I like how it looks like Luke is driving the AT-AT while Han and Chewbacca are just along for the ride.
Here is a close-up of one of the Imperial piggies.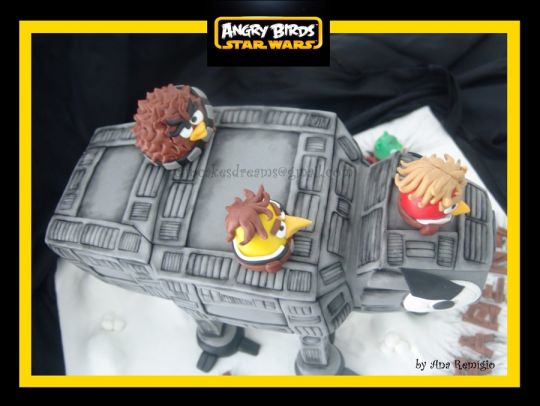 Here's a top view of the AT-AT
Here is a side view of the AT-AT's front. I really like how it has eyes and eye brows.