Shantal from Shakar Bakery sent me photos of this awesome Han Solo in Carbonite Cake that she made. The detail on this cake is terrific. I really like how Shantal incorporated working lights into the side of the cake.
The cake was 24″ x 12″ x 4″.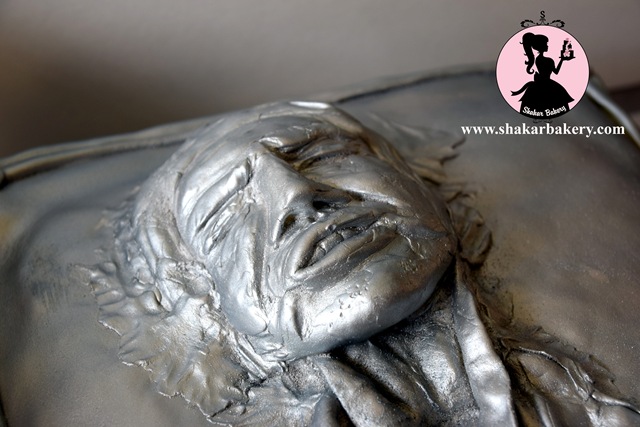 One of the coolest things about the cake is the face. The face is actually a blend of Harrison Ford and the person the cake was made for.
This is probably my favorite photograph of the cake. The detail on the face is amazing. You can clearly make out Han's hair, eye lids, nose, lips, and teeth.
I really like how the carbonite has tons of little cracks in it from being flash frozen. The Star Wars fan in me loves the detail, but the cake decorator in me chuckles at this. Let me explain. One of the great challenges in decorating cakes is getting all of the fondant, chocolate modeling clay, and gum paste to be smooth and to have no cracks at all. So, the image of Shantal having to intentionally add cracks is humerous. But, the end results are gorgeous.
The detail on the hands is wonderful. You can even see Han's fingernails and some of the lines on the palm of his hands. I doubt if a fortune teller reading Han's palms would have seen this coming.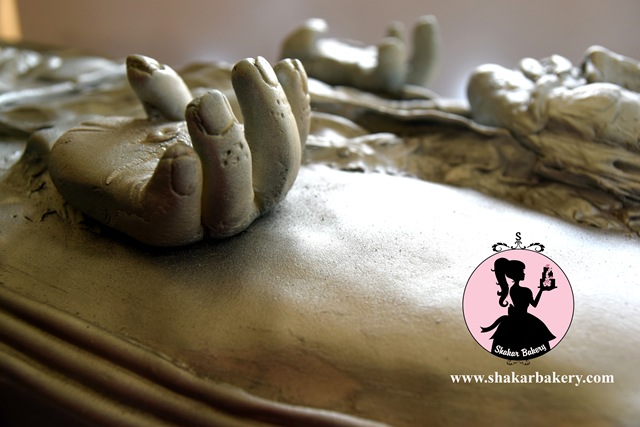 Here is another shot that shows the amazing detail on Han's hands.
Shantal made the following cool video of the cake which shows the whole cake is detail: