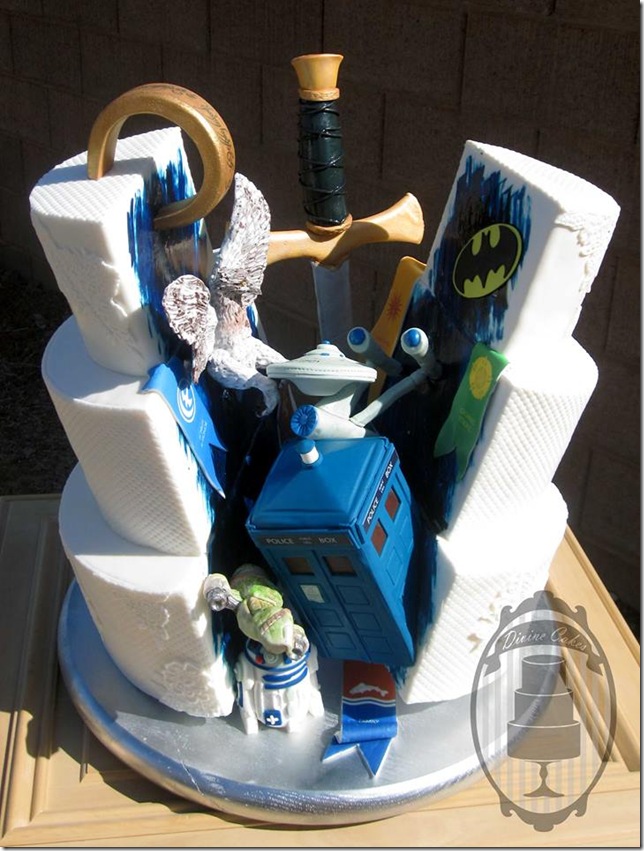 I love geeky wedding cakes. In fact, back on my 25th wedding anniversary, I posted 28 of my favorite geeky wedding cakes. This amazing split wedding cake from Divine Cakes is my new favorite.
This amazing cake includes the TARDIS from Doctor Who, R2-D2 from Star Wars, the Enterprise from Star Trek: The Original Series, Serenity from Firefly, a Unicorn from Blade Runner, Sigils from Game of Thrones, the One Ring from The Hobbit and The Lord of the Rings, a Hippogriff from Harry Potter, the Bat-Signal from Batman, and a sword.
My eyes are drawn to all the geeky stuff bursting from the cake that I barely even notice the cake. That is a shame because the cake is amazing! It is a classic white three tier wedding cake that has been decorated, split down the middle and stuffed with more geeky goodness than I can count. The two halves of the cake are at a 75% degree angle and there is a complex support structure that hold the two halves in place and prevents them from moving further apart.
The gorgeous cake and goodies within combine to make one of the coolest cakes I've ever seen.
In addition, check out these Pop Culture Wedding Cakes.