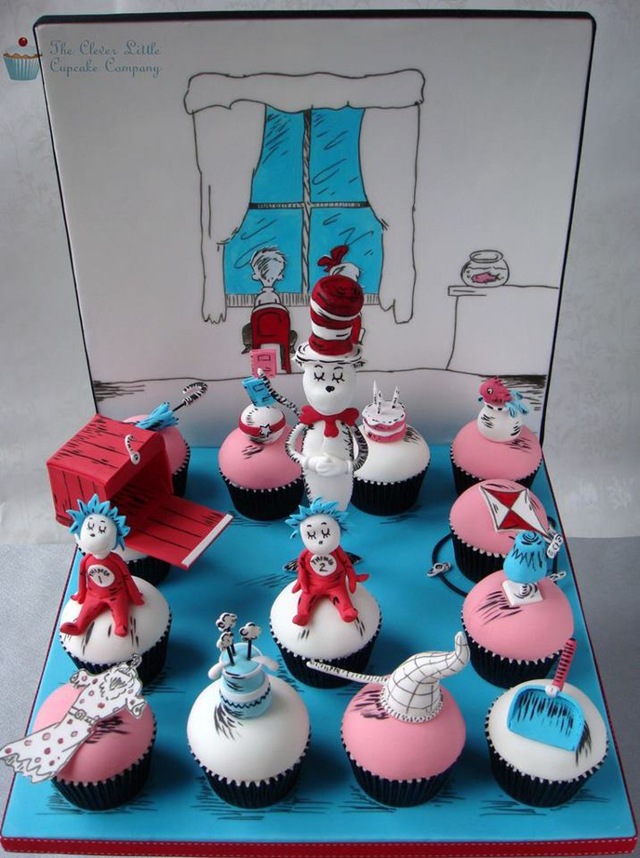 I was going to write this post in rhyme
but I stink at rhyming big time
 Plus, there aren't many words that rhyme with cupcakes
Online, I could only find cupcake, pancakes, puppies, and uptake
 Since when do Puppies and cupcakes rhyme?
Puppies and guppies rhyme
but puppies and cupcakes? I haven't the time.
Guppies and puppies with cupcakes?
pancakes with uptakes?
or do the puppies and guppies uptake the pancakes and cupcakes?
The Cat in the Hat is a much easier rhyme
There are so many choices, it is almost sublime
The Cat in the Hat
Is not a title to laugh at
How about instead The Vampire Bat with a Wrestling Mat?
 or The Angora Cat with a Cricket Bat?
Compared to Dr. Seuss
I sound like a sick goose
so, I'd better vamoose
Before I go
I wanted you to know
That these stunning treats
by The Clever Little Cupcake Company can't be beat
Rhyming like Dr. Seuss is nearly impossible
Just like making cupcakes this beautiful is almost not possible
These cupcake are so grand
they'd even be a hit at Custer's last stand
With all this rhyming and joking, I hope you don't misunderstand
These cupcakes are amazing
and deserve praising
The cake board and its back
are beautiful enough to give you a heart attack
I've no doubt if Dr. Seuss were here today,
about these cupcakes he's say "hip hip hooray"