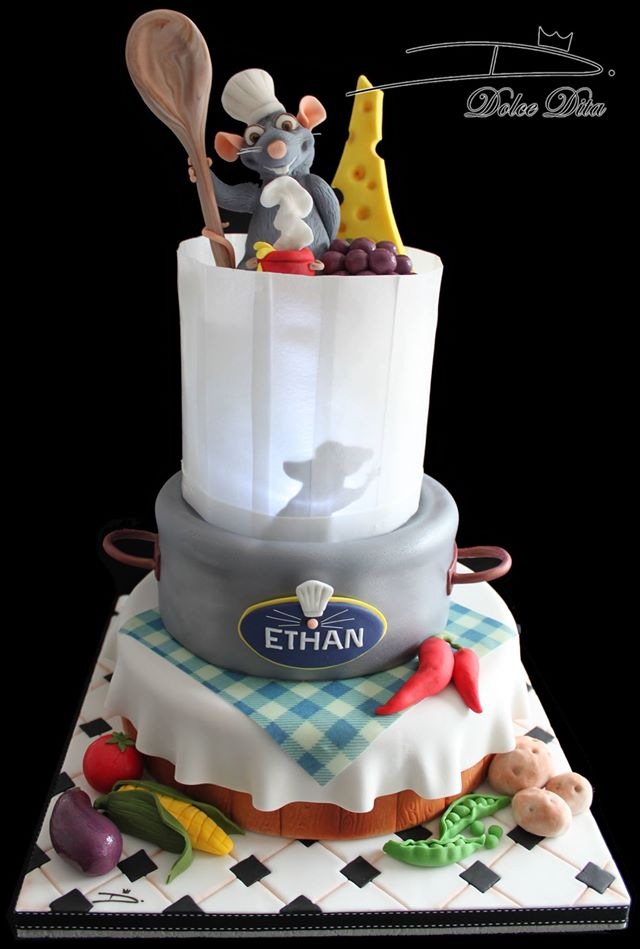 Ratatouille Cake
This is why I love blogging about cakes. Cake decorators are amazing artists who constantly keep coming up with astonishing new ways to decorate cakes. Since I began this blog, I've looked a photos of thousand and thousands of cakes. It doesn't get old because every time I turn around I find a cake like this. This Ratatouille cake by Dolce Dita is breathtakingly beautiful and pushes the envelop on cake design. The translucent chef's hat (a toque blanche) with Remy inside it blows my mind. This is one of the coolest uses of wafer paper that I've seen.
The bottom layer is a cake board that looks just like the tile floor in the kitchen in the movie. You can see it clearly in this Ratatouille movie poster.
Scattered around the floor are vegetables like potatoes, peas, and corn.
The first layer of the cake looks like a wooden table. It has both a white table cloth and a smaller blue and white checkered table cloth.
The second layer looks like a large metal pot. I assume the pot contains Remy's soup from the movie. (The blog Out of the Ordinary Foods recreated Remy's soup based on the ingredients in the movie) The birthday boy's name is written to look just like the movie's logo.
Next is the Pièce de résistance – Linguini's toque blanche with Remy inside.
On top of the toque blanche is Remy holding a wooden spoon and wearing his toque blanche. Around Remy are a pot, grapes, and cheese.
Planning a Ratatouille party? Check out these wonderful Ratatouille Cakes.