This Fabulous Snowy Cake was made by Esme Dawson of Cakes by Esme for the Cakes From Middle Earth Cake Collaboration. Esme loves the Tintin movie and is a dog owner and dog lover, so she chose to make this Snowy cake. She did a great job creating this edible statue of Snowy. Snowy's eyes and nose make him look adorable.
She decided her creation had to be a delicious cake. The legs and body of Tintin were made from a chocolate mud cake. with buttercream icing. Modeling chocolate was used to make the facial features. The fur was made from fondant sculpted with a dresden tool. This amazing Tintin Cake took three days to complete.
Side view of Snowy
Close-up of Snowy's head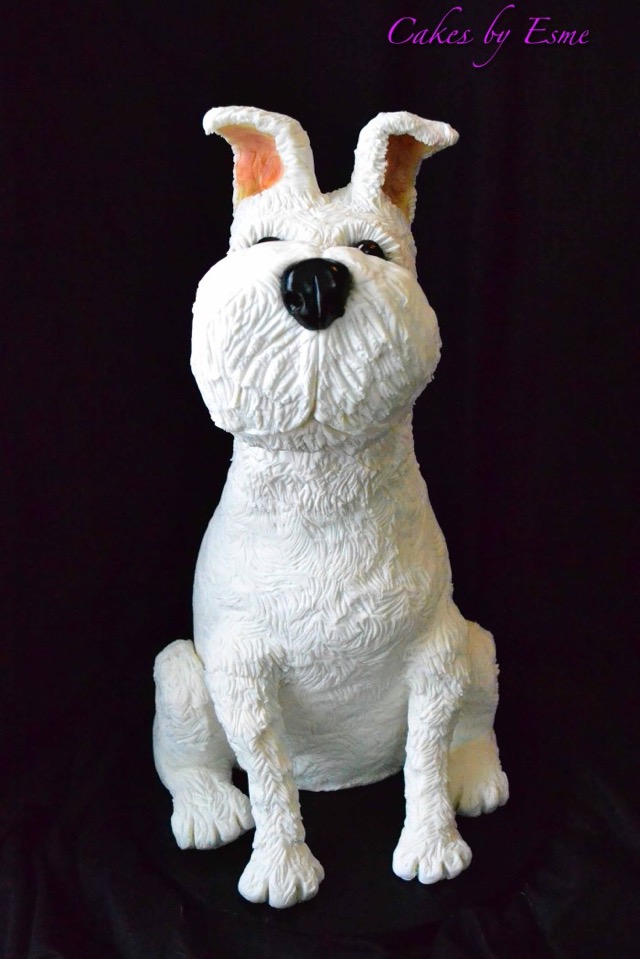 Snowy went into work so he had to abide by the dress code and wear a tie.
This Terrific Crossing the Line cake was made by Jenn McMillan of Utopia Cakes for the Cakes From Middle Earth Cake Collaboration. This cake features the scene of the trenches with enemy planes chasing a three dimensional plane. Jenn wanted to do a cake about a war themed short film as homage to all of the brave men and women in the armed forces. A family friend served in the Air Force, and one of her Grandfathers served in the Army, and the other one served in the Navy. She thought doing a cake set in the World War would be a great way to honor them. The three dimensional biplane was done for her late Father-in-law who loved warplanes.The three dimensional plane has a working propeller operated by a small motor hidden in the nose of the plane.
One of her granddads was born on Anzac day and since he and Jenn were ex-Navy, she put the blood red poppies on the cake for him. Anzac Day is the day on which Australians who served and died in all wars, conflicts, and peacekeeping operations are remembered.
She was originally going to do Heidi from Meet the Feebles, so there is a black and white photo of Heidi as the photo that was dropped by one of the characters in the film.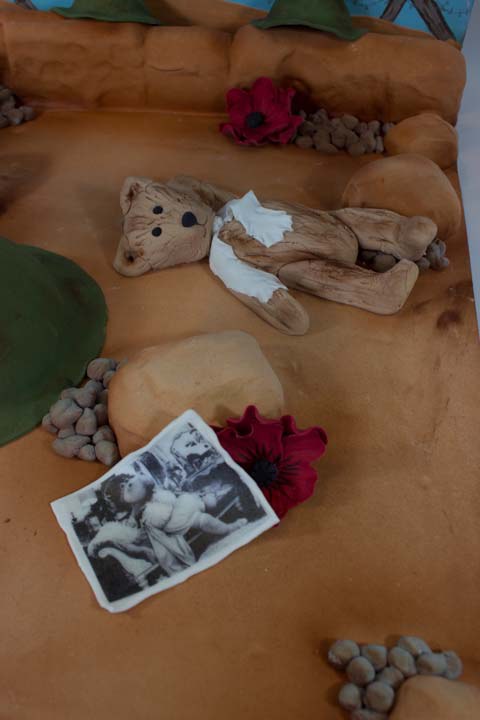 black and white picture of Heidi from Meet the Feebles
battle scene with green army helmet, teddy bear, red poppies, and photo
Green helmet, red poppies, teddy bear
World War biplane with working propeller