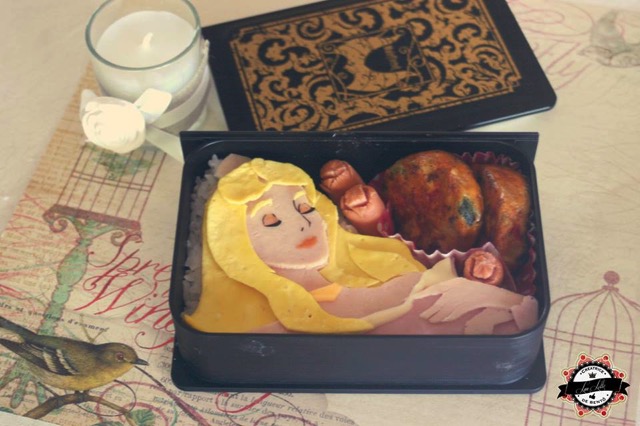 This Sleeping Beauty Bento Box was made by Les Folies de Lau-Lotte. Sleeping Beauty is fast asleep in this lunch-time meal. She is resting on a bed of rice. She has long yellow hair and yellow bangs and yellow eye brows which appear to be made from cheese. The closed eyes, nose, and mouth are drawn onto her face. Ketchup was used to draw her mouth. Her hands are separate pieces on top of her body. She dress was probably made from ham to make it light pink. Two pink sausages lay beside her head. Vegetable pancakes are beside the two sausages. One pink sausage is beside her hands.
The bento box is composed of rice, pork, ham, and chicken, egg, cheese, nori, ketchup, and vegetable pancakes. There are pink sausages.
The box that hold the lunch looks like an ornate old black book with an embossed gold design.
Bento Box book
Bento Boxes that look like old books
In addition, check out these splendid Bento Boxes.
Also, check out these wonderful Sleeping Beauty Cakes and Cookies.