Priscilla Romans, from Cakes by Priscilla, recently sent me pictures of a few of her pop culture cakes on Twitter. Since I'm a fan of Spider-Man, this is one of my favorite made by her. Spider-Man was hand sculpted. Spider-Man's costume was made with icing. The only fondant on the cake is the Spider.
The cake features the bust of Spider-Man. All of his costume is red. The part of the mask which covers Spidey's are white because Peter Parker has to be able to see through them. There is also a white spider emblem on his chest. The whole costume is covered in a black webbing design.
The cake board is black. The birthday wish is written in white with a spider web on one side. I really like the way it is written because it looks like Spider-Man's webbing.
One thing I really like about this cake is that the cake and cake board only use three colors – Red, Black, and White. Because of this, the white really pops out and draws your eyes to the writing done with Spider-Man's webbing. The black cake board blends in with the black on the cake making the white even more noticeable. This cake is classic Spider-Man.
And speaking of classic Spider-Man…
A good friend of mine recently did a project involving a classic Spider-Man comic book that I thought was absolutely fantastic and I wanted to share it with everyone.
Spider-Man has appeared in thousands of comic books. While most are enjoyable, few are true classics. When you list the classic Spider-Man stories – Spider-Man being unmask by the Green Goblin makes that list. Here is the cover of that amazing issue.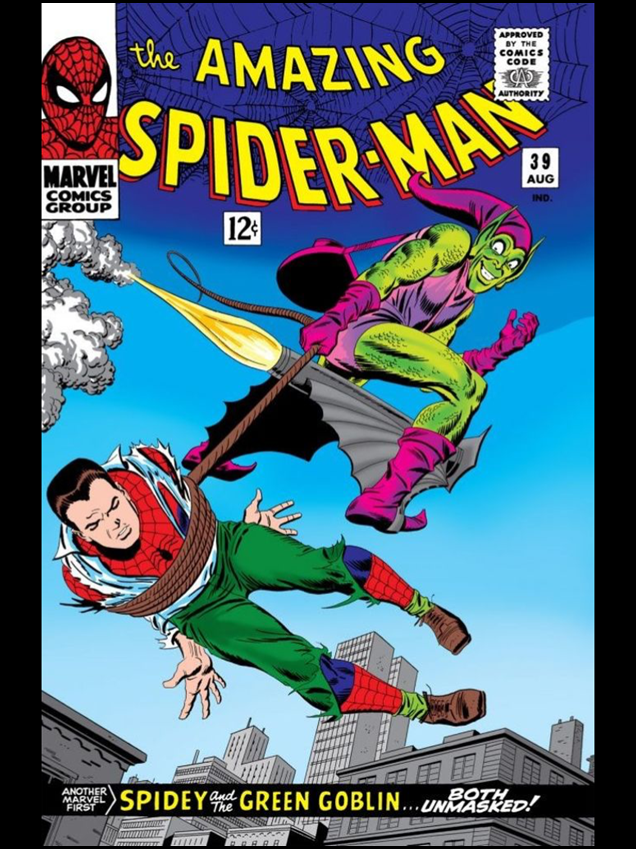 Mark Ginocchio, probably the world's leading expert on Spider-Man, ranks this cover as his 2nd favorite Amazing Spider-Man cover of all time. Mark also ranks this as the 3rd greatest Spider-Man / Green Goblin battle of all time.
A good friend of mine LaMonte from Fantastiverse makes some of the coolest comic book related videos around and recently made this terrific video about this Silver-Age Classic. I hope you enjoy this video as much as I did.