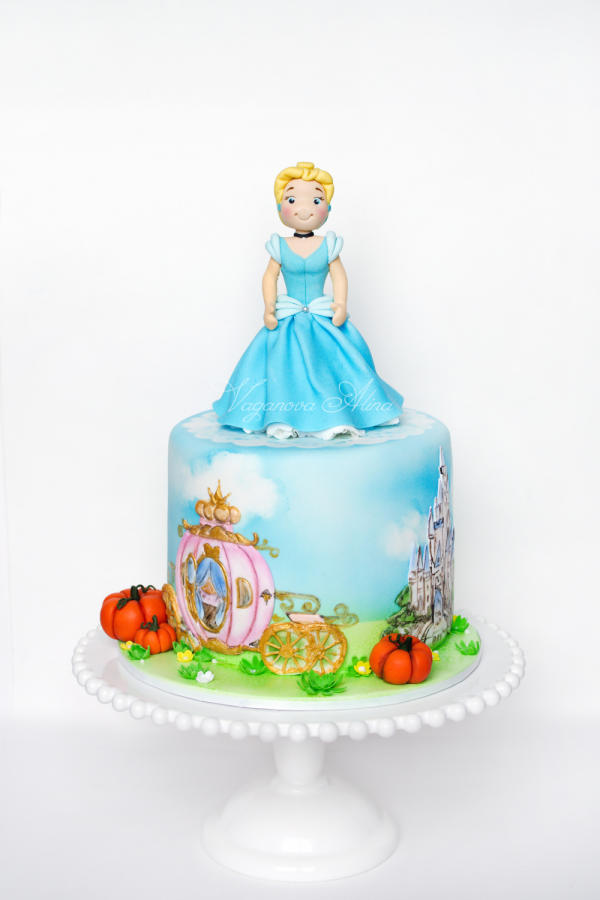 This Fabulous Cinderella Cake was made byVaganova Alina. This Cinderella Cake has figure of Cinderella on top and a painting of Cinderella's carriage and Cinderella's castle on the side of the cake.
Cinderella covers the top layer of the cake. She is wearing a blue dress with lighter blue around the middle of the dress and the top of the arms. There is white lace trim behind the dress. Cinderella is wearing a black ribbon necklace with a pearl in the middle. She has blonde hair and is wearing blue earrings. There is a blue ribbon in her hair. Cinderella is smiling.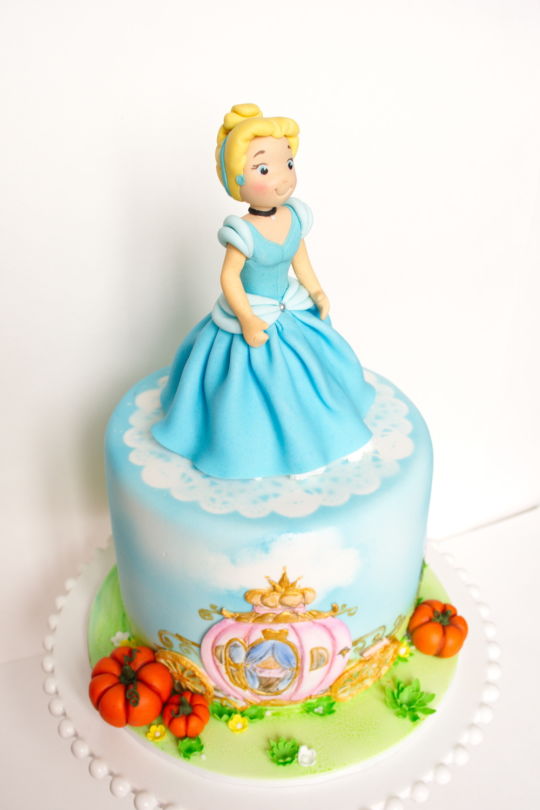 The hand-painted Cinderella carriage is shaped like a pumpkin. There is a golden crown on top. There are larger gold wheels. Blue curtains are around the door of the carriage. The outline of the door is gold and the inside of the door is gold. There is a gold window on each side of the door. The driver's seat of the carriage is outlined in gold. There are orange pumpkins with green stems and vines beside the carriage. Green, yellow and white flowers are on the ground. The cake background around the carriage is blue and white to represent the sky with clouds. The cake board is light green to represent grass.
Cinderella's castle looks like it is made from fondant and the castle design painted onto the fondant. There is an orange pumpkin in front of the castle. Green, yellow, and white flowers are on the ground in front of the castle. The painting on the cake just behind the carriage is blue with white clouds to represent the sky.
Cinderella's hair is curled up. There is a white doille pattern under the Cinderella figure.
Also, check out these wonderful Cinderella Cakes and Cookies.