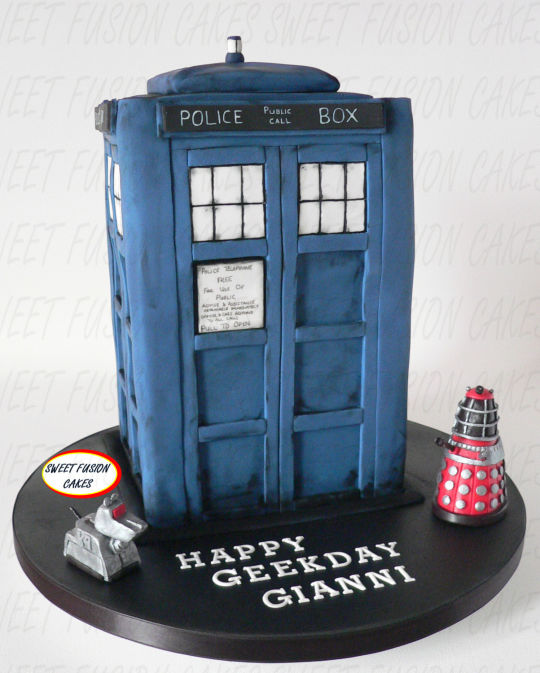 This Fabulous TARDIS Cake with K9 and a red Dalek was made by Sweet Fusion Cakes. The cake says Happy Geekday to wish a Happy Birthday. The TARDIS is blue with touches of a light coating of black ink to show aging and signs of wear. The Dalek is red and silver, and K9 is silver.
This cake is ten inches tall and six inches wide. Modeling chocolate was used to make the Dalek and K-9. 
This red Dalek has a red finish with silver bumps on top of the red and silver and black details on the Dalek. The bottom edge of the base of the Dalek is a black band.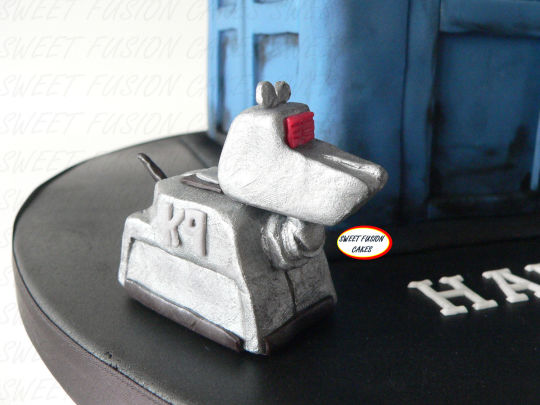 K9 is silver with red sensors for his eyes. He is a robot dog created by Professor Marius and a companion of the Fourth Doctor, Tom Baker, in the BBC Television Show Doctor Who. His silver ears are rotating probes. His nose hides a laser weapon. He has a waggling tail antennae. The letters K9 are printed on his side.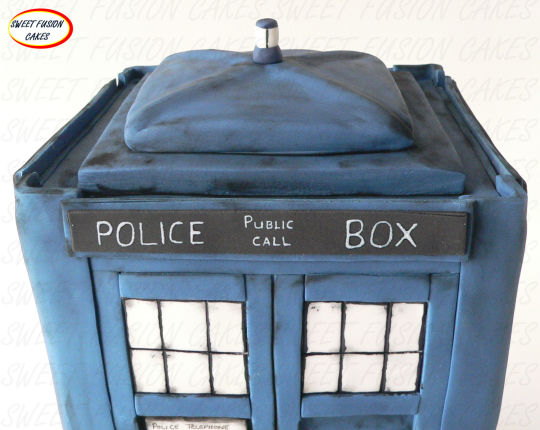 The top of the TARDIS is highlighted in black to show weathering to the TARDIS. This picture shows the light on top of the TARDIS and the POLICE PUBLIC CALL BOX sign on the top of each side of the TARDIS.
This is a closeup of the sign on the door that says 'Police Telephone Free For Use of Public Advise and Assistance Obtainable Immediately Officer and cars Respond To All Calls. Pull To Open.' 
The sign looks like it was made from white fondant and handwritten using an edible marker.