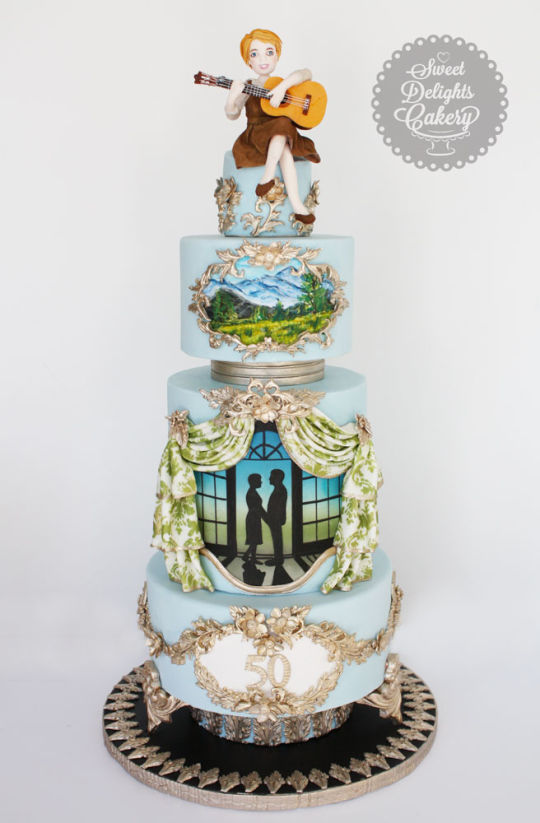 This Fabulous Sound of Music Cake was made by Sweet Delights Cakery.  This cake was made to celebrate the 50th anniversary of The Sound of Music movie. It's design features the baker's favorite songs from the movie. 
On the top of the cake is an edible figure of Maria, from the scene in the movie where she is playing a guitar and singing the  Do-Re-Me song with the Von Trapp children. She is dressed in a brown jumper with a white long sleeve blouse. Just below Maria are gold guilded Edelweiss. Maria was sculpted using modeling chocolate.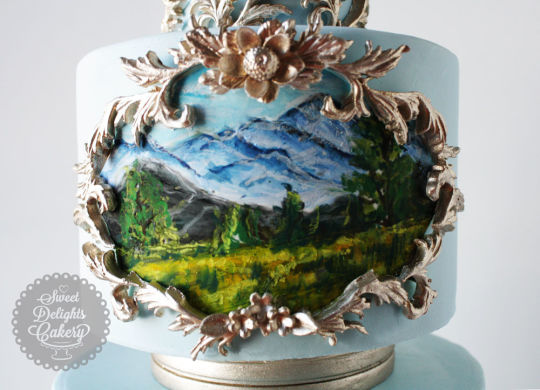 Below Maria is a wonderful hand-painted scene of the Austrian Alps and Alpine meadows. The hand painted scene is bordered with a gold guilded ornate frame that contains Edelweiss.
The next layer is a silhouette of Maria and Captain Von Trapp inside the gazebo singing Something Good. The Damask curtains that surround the silhouette were used to make clothes for the seven Von Trapp children.
The bottom layer is light blue with a guilded gold Edelweiss trim with a gold number 50 in the middle. The background for the 50 is white with a diamond pattern. The Edelweiss on the cake represents the song Edelweiss.  The cake board is black with a guided gold side and ornate gold decorations. The ornate gold on the cake represents the ornate furnishings of the Von Trapp house.