This Splendid Minnie Mouse 7th Birthday Cake was made by Isbilya Cakes. A wonderful edible figure of Minnie Mouse is standing on top of this Disney birthday cake.
Minnie Mouse is wearing a red dress with white polka dots and a white collar. She has a red and white polka dot bow in her hair. She is wearing white gloves and holding out her hands in the air. Her shoes are yellow. Minnie is smiling. She is standing on top of the top layer of the cake. The cake layer is red on the side and white on top with small black balls forming a border around the white top. The birthday name is on the side of the cake in white letters with red specks and a black background outline. The bottom of the layer is covered with a black ribbon with white polka dots.
The bottom layer of the cake is white. There are red silhouettes of Mickey Mouse and Minnie Mouse on either side of the black silhouette of Cinderella's Castle. The layer is surrounded by a red ribbon with white polka dots. The cake board is red with a black and white polka dot ribbon on the side. There is a number '7' on the cake board just in front of Cinderella's Castle to represent the birthday age.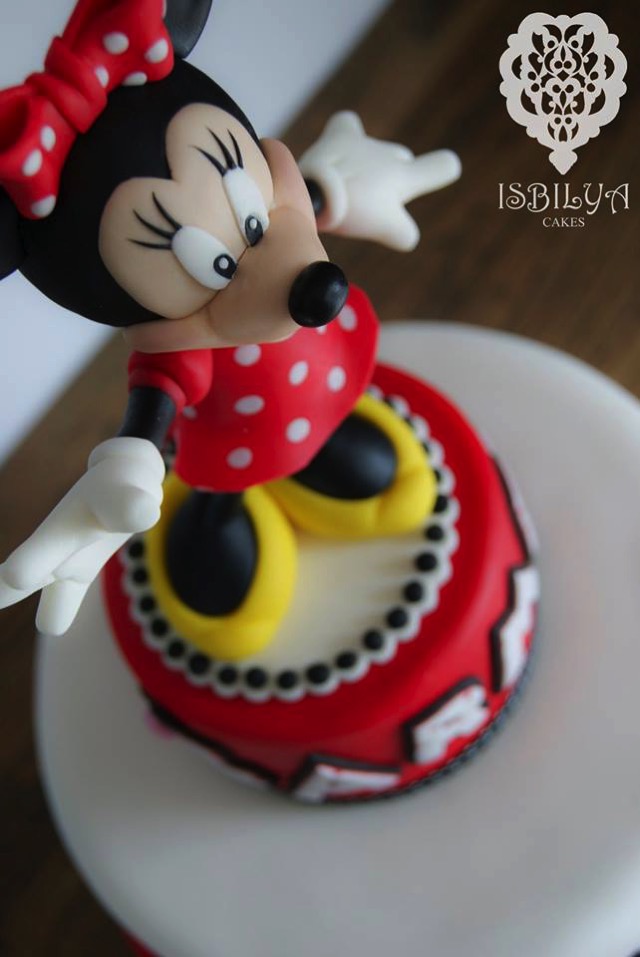 Here's a top view of Minnie Mouse.
There's a pink bow on the top of the first letter of the birthday name.
Also take a look at these splendidMinnie Mouse Cakes and Cookies.