These Award Winning Cinderella Cake and Cupcakes were made by Amanda's Little Cake Boutique. They won a Silver Medal at Cake International at Manchester.
This Cinderella Cake and Cupcake stand has Cinderella's pink dress on top surrounded by cupcakes with sewing implements and Perla and Jaq. The side of the platform has a large pink bow and ribbon. The floor of the stand for both tiers is a light brown woodgrain. The bottom platform of the stand has more Cinderella sewing cupcakes, a pin cushion, and Gus, and Suzy. The stand in the middle shows the pumpkin turning into Cinderella's carriage, the clock striking midnight, and the carriage turning back into a pumpkin. The background of the stand is dark blue. Cinderella's carriage is light blue with gold trim and gold wheels.
Jaq is sitting on the ground with a key in front of him. He is wearing a red shirt and an orange jacket. He has on a red hating brown shoes. His hand in resting on a silver thimble.
Perla is wearing a pink dress with a white apron. She is holding a sewing needle in her hands. She is wearing a pink hat. There is a blue spool of thread beside her. She is ready to help Cinderella sew her dress for the ball.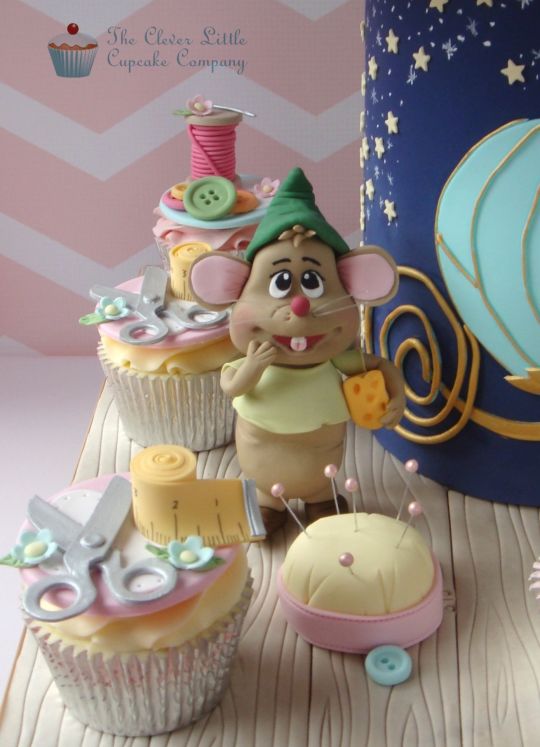 Gus is always hungry. He is holding a piece of cheese in his hand. Gus is wearing a green shirt and a green hat. He is surrounded with cupcakes covered in silver scissors, yellow measuring tape, and a spool of pink thread and buttons. In front of him is a yellow pin cushion with pink trim. There is a blue button in front of the pin cushion. There are yellow stars on either side of Cinderella's carriage in the background.
This Cinderella Sewing Cupcake has a pair of silver scissors and a yellow measuring tape. There are small blue flowers around the scissors and tape measure. The cupcake has yellow icing and a pink fondant plate to hold the sewing tools.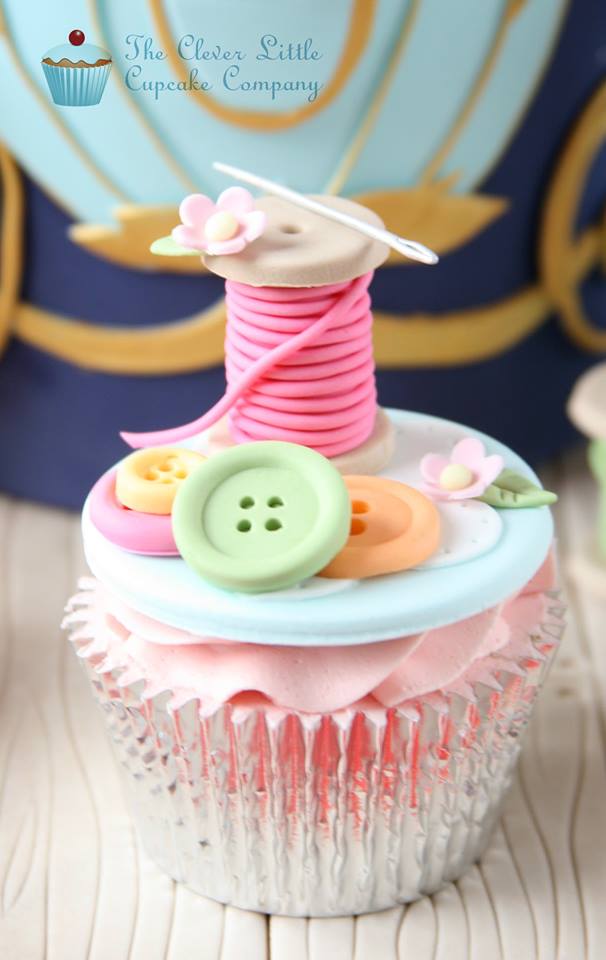 This Cinderella cupcake has pink icing and a blue fondant circle to hold a pink spool of thread and pink, yellow, orange, and green buttons. There are pink flowers on the cupcake.
Also, check out these wonderful Cinderella Cakes and Cookies.