This Awesome Yoda Cake made by Roses and Bows Cakery. Yoda is wearing a gray robe and a dusty rose tunic. His two hands are propped on top of a brown wooden cane. His feet are sticking out of the tunic. He is standing on white tiles that are part of the cake board.
Yoda has a nice degree of shading in his face and his clothes.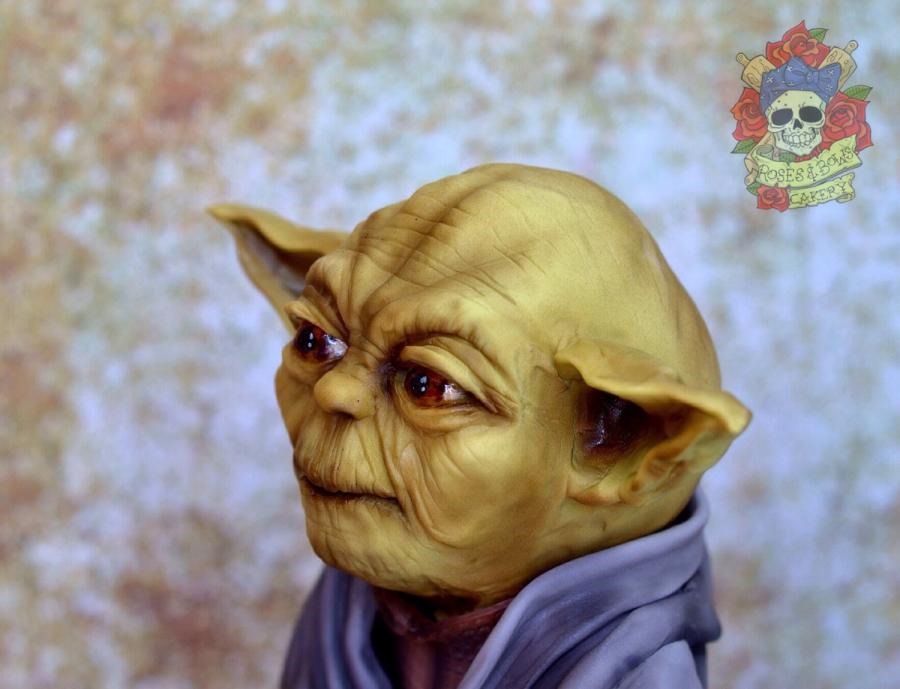 The detail of Yoda's face and head is wonderful.Yoda's wrinkles above his mouth and below his eyes can easily be seen in this photo. Notice the three crease lines that start at the top of his nose and are in his forehead and run up to his skull. The shape of his eyes and mouth wonderfully express his contemplative mood.
This cake was part of The Fondant Awakens – May the 4th Be With You Cake Collaboration. Check out this cool Cool Chibi Boba Fett Cake , Awesome Boba Fett Minion Cake, Marvelous Yoda vs Darth Vader Light Saber Duel Cake , Amazing Landspeeder Cake , and Geektastic Gamorrean Guard Cake that are also part of this collaboration.