This Stunning Harry Potter And The Chamber Of Secrets Cake was made by Miss Shortcakes.
Jessica made this gorgeous cake for the Harry Potter Themed cake collaboration – Birthday Mischief Managed. Birthday Mischief Managed is a worldwide collaboration of food artists to celebrate J.K. Rowling's 50th Birthday. The collaboration went live on July 31st, the date of J.K. Rowling's and Harry Potter's birthdays.
Since it is his birthday, Harry Potter is holding a Golden Snitch birthday cake. Beneath Harry is the girl's bathroom where Myrtle Warren, was killed. The Slytherin crest is on the side.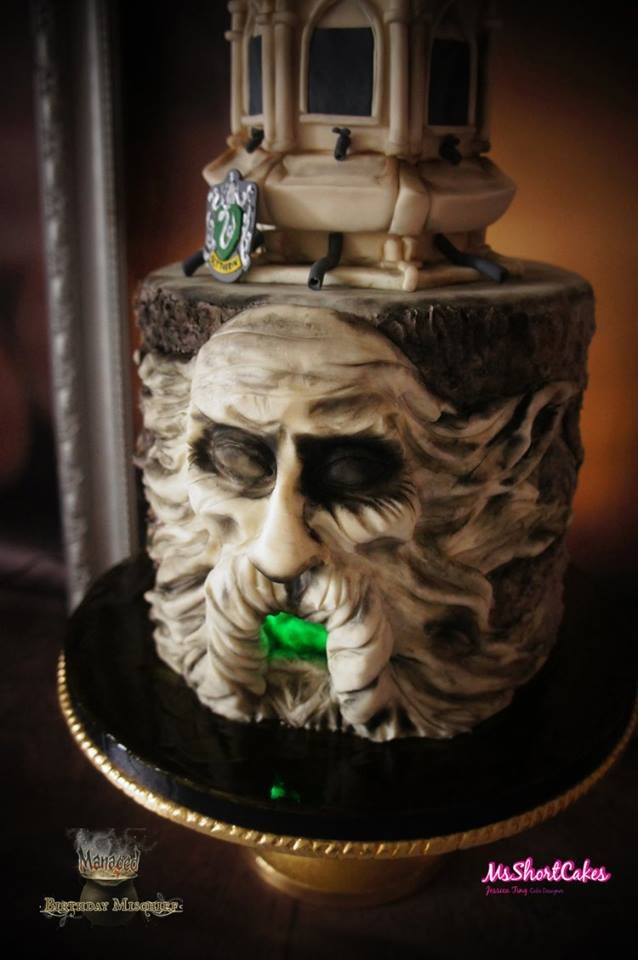 My favorite part of this cake is the amazing stone statue of Salazar Slytherin with the green glow coming from his mouth. The green glow is from the Basilisk hiding within.
The green glow, comes from a set of green lights which were inserted through the back of the cake. Jessica rolled out a thin piece of grey fondant and covered the opening of the mouth. This softened the lights and made it look "smoky".
I hope you have enjoyed the last three weeks spotlighting the stunning Harry Potter Cakes from the Birthday Mischief Managed Cake Collaboration. If you haven't checked it out yet, there are still more magical cakes to be found at Birthday Mischief Managed. Please come back tomorrow, we'll be paying a visit to Beast Boy from Teen Titans Go!. The next few days, I'll be featuring She-Hulk, Catwoman, and the fastest hunk of junk in the galaxy. Harry Potter fans don't fret, I love Harry Potter and feature his magical world regularly. Plus, I still have one more Birthday Mischief Managed post lined up, but it is so spooktacular, I'm saving it for Halloween week.