This terrific Harry Potter Cake recreating Number 12 Grimmauld Place, Sirius Black's ancestral home, was made by The Grand Finale.
Anna made this wonderful cake for the Harry Potter Themed cake collaboration – Birthday Mischief Managed. Birthday Mischief Managed is a worldwide collaboration of food artists to celebrate J.K. Rowling's 50th Birthday. The collaboration went live on July 31st, the date of J.K. Rowling's and Harry Potter's birthdays.
This montage features close-ups of the house. The detail on the house is just wonderful.
You can see Harry's gifts on the top floor, with the doxies trying to open them first. The orange ribbon that the presents are wrapped in is a tribute to J.K. Rowling's mother – Anne Rowling who died from multiple sclerosis. Notice that the walls have wallpaper on them. I like that Anna included Walburga Black's portrait. It is draped in black because otherwise the portrait would scream at pretty much anybody who walked by it.
The mounted house-elf heads are approximately one inch tall and the crest for the House of Slytherin on the side.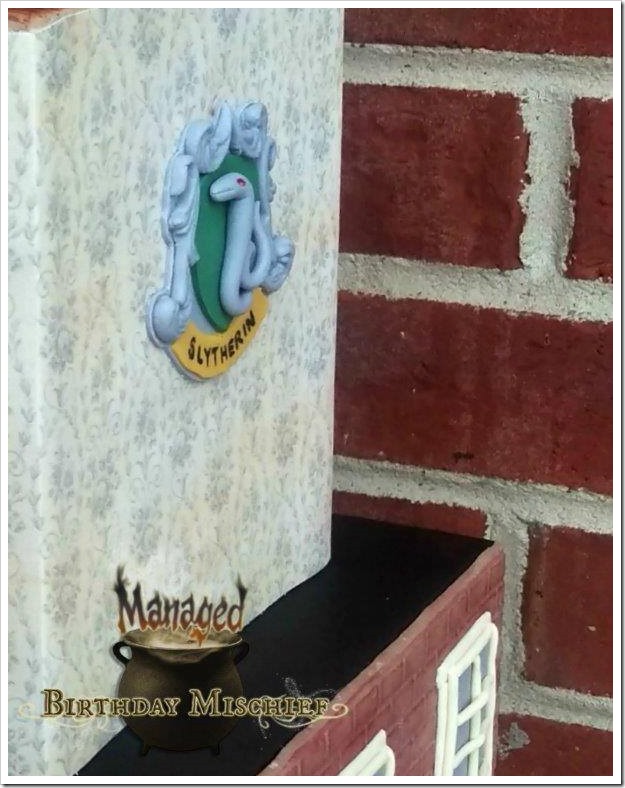 I really like the design where the bottom layer is the outside of the house and the top two layers are the inside of the house. I don't recall seeing this cool design before.
Fondant, gumpaste, chocolate modeling clay, and edible paper were used to decorate this stunning cake.