The Sugar Skull Bakers is a collaboration of cookie, sugar, cake decorators, and artists from around the world honoring the 3,500 year old Mexican holiday – Dia de los Muertos (aka The Day of the Dead).
The group, founded in 2013, by cake artist Berenice "Berry" Rabago, of Berry's Sweet Studio and graphic artist Yuki Navarro, is comprised of artists who work with edible mediums. Their skills expertise range from hobbyist to professional. Some have competed worldwide and have even appeared on National American television network programs such as Sugar Dome, Cake Wars, and more.
The Sugar Skull Bakers may also be found on Facebook,Twitter, and Instagram.
This week, Between the Pages will be featuring many of these gorgeous creations.
What do you get when you mix Disney Tsum Tsum with Dia de los Muertos? If you are Cake Revol from Un Jeu d'Enfant, you get this awesome cake.
Here is their description of this delightful cake:
Here's our piece, we took inspiration from the so cute Disney trends toys « TSUM TSUM ». A voluntarily childish choice to contrast with the grown-up universe of calaveras. Beyond this visual, we also wished to put in the honor the technique of the food printing. We didn't take already existing pictures to make our cake, but took time to design on photoshop every portraits with the visual codes of the Mexican « Dia de los Muertos ». Once conceived, we realized them in our favorite technique, the Flat design ;). We chose to keep a sobriety for the rest of elements to emphasize these portraits. The topper,"Dia de los muertos", in the shape of gravestones and also realized in Flat design, brings a lugubrious and festive touch, perfect for Halloween. Finally, we selected strong symbols of this theme, to frame each of the portraits with, for Mickey a cross, for Minnie a rose and for Pluto … a bone naturally 🙂 😀
It wasn't until I saw this close-up that I realized that the topper looks like three separate tombstones. The largest tombstone even has a stone cross.
Here is the Tsum Tsum / Day of the Dead Pluto. I thought putting bones beside Pluto was a really neat idea. First, Pluto is a dog, so bones make perfect sense. But, this is a Day of the Dead cake, so the bones have a deeper meaning.
Here is the Tsum Tsum / Day of the Dead Minnie Mouse. Notice that Minnie has flowers beside her.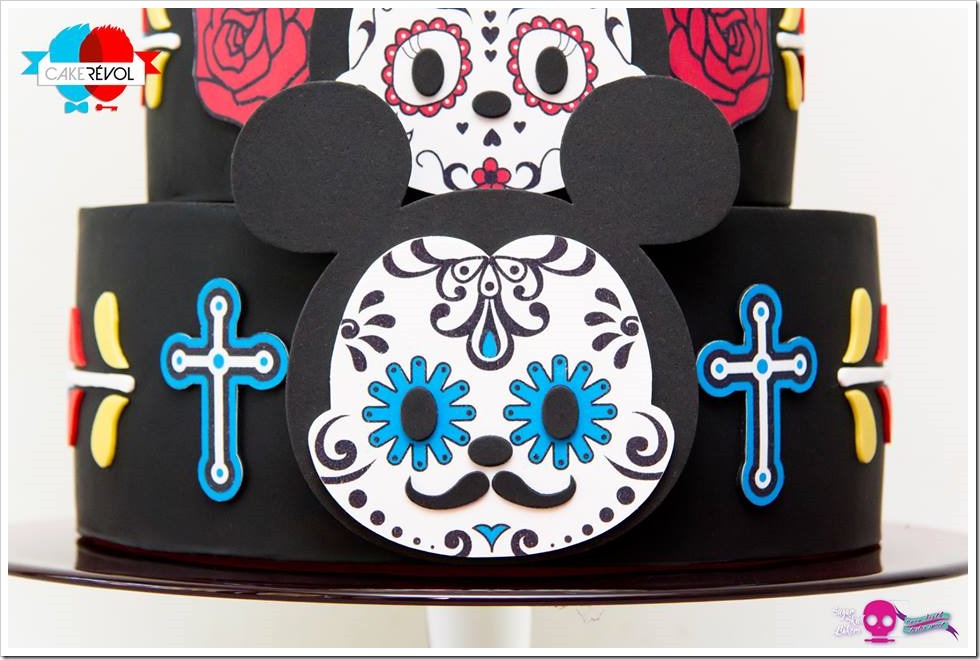 Here is the Tsum Tsum / Day of the Dead Mickey Mouse. Notice that Mickey has bones beside him.
This view shows you how the sides of the cake is decorated.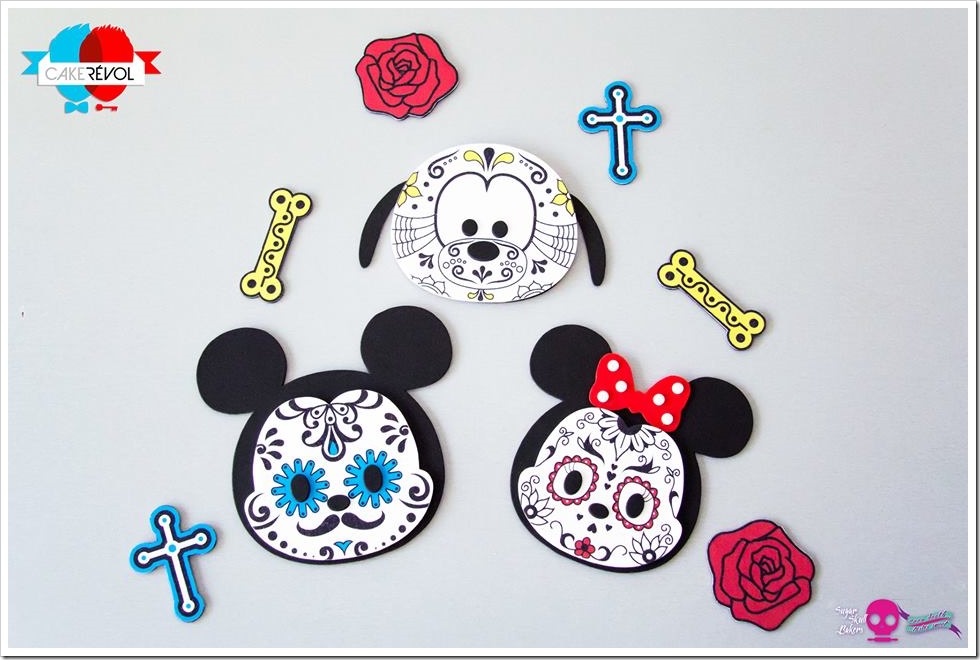 I love the use of colors on these Tsum Tsum / Day of the Dead characters. Pluto's face is painted with a little bit of yellow which matches the bones. Minnie's red goes with the flowers. Mickey's blue matches the crosses.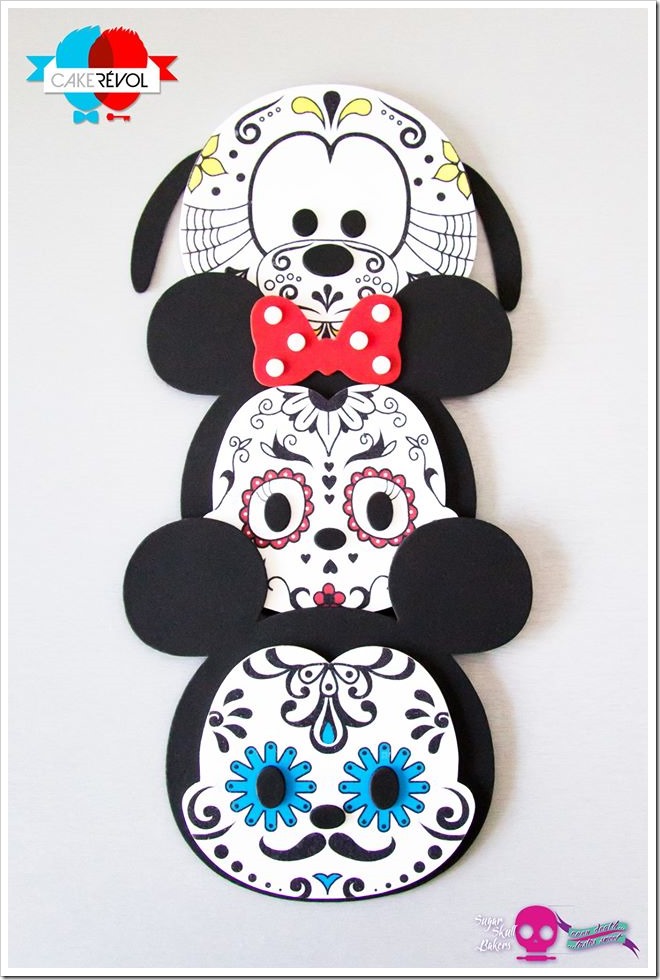 Here are Mickey, Minnie, and Pluto stacked together.